For $5.99/Month, "CBS All Access" Delivers Full Seasons of Current Primetime,
Plus Leading Daytime and Late Night CBS Shows, Thousands of Episodes
From CBS's Library of Classics, and Ability to Livestream Local CBS Stations
In More Than 110 Markets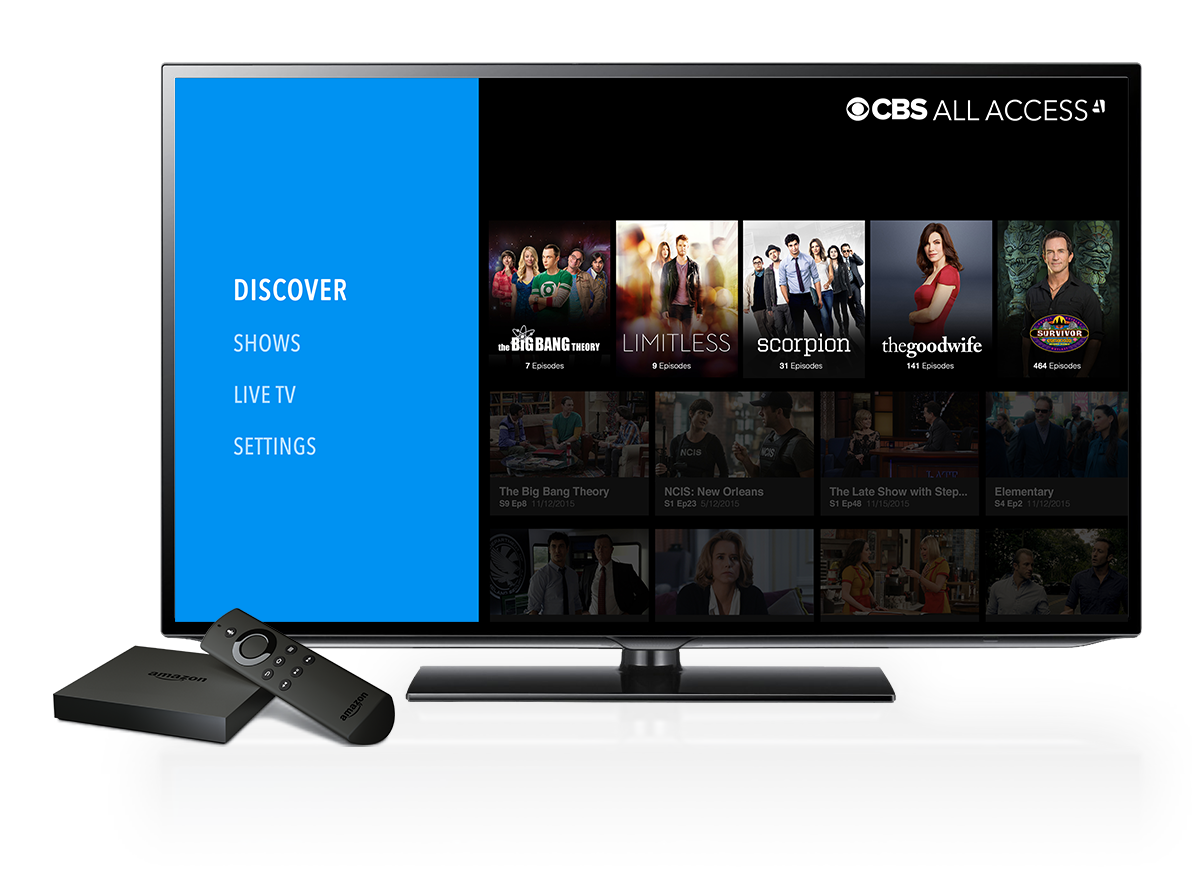 NEW YORK, N.Y. – Nov. 23, 2015 – CBS Corporation today announced the launch of CBS All Access, the CBS Television Network's digital subscription video on demand and live streaming service, on the new Amazon Fire TV and Fire TV Stick with Voice Remote.
For $5.99 a month, CBS All Access will offer Amazon Fire TV users more than 7,500 episodes from the current season, previous seasons and classic shows on demand, as well as the ability to stream their local CBS Television station live in more than 110 markets across the U.S., reaching nearly 75 percent of the U.S., including New York, Los Angeles, San Francisco, Chicago and Philadelphia, with more to be added soon.
The CBS All Access channel brings all of the benefits currently available to CBS All Access subscribers to the new Amazon Fire TV and Fire TV Stick with Voice Remote, including:
Full current seasons of 24 shows with episodes available the day after they air, including LIMITLESS, ELEMENTARY, THE GOOD WIFE and SCORPION.
The ability to live stream the local CBS station in more than 110 markets across the U.S., with more to be added as affiliates join the

CBS All Access

service.
Full past seasons of 10 major current series including THE GOOD WIFE, NCIS and HAWAII FIVE-0.
More than 7,500 episodes available on demand, including all episodes of popular CBS Classics in an advertising-free environment such as STAR TREK, CHEERS, MEDIUM and CSI: MIAMI.
Exclusive additional content for CBS Television's biggest special events like THE GRAMMY® AWARDS, THE ACADEMY OF COUNTRY MUSIC AWARDS and THE VICTORIA'S SECRET FASHION SHOW.
Access to

CBS All Access

's first original series, the next chapter of the legendary "Star Trek" TV franchise, debuting in January 2017.
The service is available on the new Amazon Fire TV and Fire TV Stick with Voice Remote. New subscribers can sign up for a CBS All Access subscription and a free week-long trial directly by visiting http://www.cbs.com/allaccess, while current CBS All Access subscribers can simply log in using their existing username and password.
To learn more about CBS All Access on Amazon Fire TV and to sign up for a free weeklong trial visit CBS All Access on Amazon Fire TV, or go to http://www.cbs.com/all-access/firetv.
CBS All Access subscribers can also use the service on their Android, iOS and Windows 10 devices via the CBS App, online at CBS.com, through Apple TV, Chromecast, Android TV, Roku players and Roku TV, with additional connected devices being added in the coming months.
To view a video introduction to CBS All Access, visit http://www.cbs.com/allaccess.
About CBS Corporation
CBS Corporation (NYSE: CBS.A and CBS) is a mass media company that creates and distributes industry-leading content across a variety of platforms to audiences around the world. The Company has businesses with origins that date back to the dawn of the broadcasting age as well as new ventures that operate on the leading edge of media. CBS owns the most-watched television network in the U.S. and one of the world's largest libraries of entertainment content, making its brand — "the Eye" — one of the most recognized in business. The Company's operations span virtually every field of media and entertainment, including cable, publishing, radio, local TV, film, and interactive and socially responsible media. CBS's businesses include CBS Television Network, The CW (a joint venture between CBS Corporation and Warner Bros. Entertainment), CBS Television Studios, CBS Global Distribution Group (CBS Studios International and CBS Television Distribution), CBS Consumer Products, CBS Home Entertainment, CBS Interactive, CBS Films, Showtime Networks, CBS Sports Network, Pop (a joint venture between CBS Corporation and Lionsgate), Smithsonian Networks, Simon & Schuster, CBS Television Stations, CBS Radio and CBS EcoMedia. For more information, go to www.cbscorporation.com.
About CBS Interactive
CBS Interactive, a division of CBS Corporation, is the premier online content network for information and entertainment. With more than 280 million people visiting its properties each month, CBS Interactive is a top Web property globally. Its portfolio of leading brands, which include CBS.com, CNET, CBS.com, CBSNews.com, CBSSports.com, TVGuide.com, GameSpot, TV.com and Last.fm, span popular categories like technology, entertainment, sports, news and gaming.
Follow CBS Interactive on Twitter: twitter.com/cbsi and on Facebook.
* * *
Press Contact:
Morgan Seal
CBS Interactive
646-424-4321