MATT AMODIO BECOMES #3 ON 'JEOPARDY!' HIGHEST WINNINGS LIST WITH 17-GAME TOTAL OF $547,600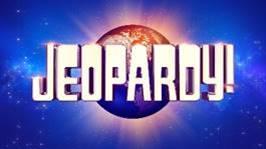 MATT AMODIO BECOMES #3 ON
'JEOPARDY!' HIGHEST WINNINGS LIST
WITH 17-GAME TOTAL OF $547,600
CULVER CITY, CALIF. (August 12, 2021) ­– Matt Amodio, a Ph.D. student from New Haven, Conn., originally from Medina, Ohio, notched his 17th straight win today and became number three on the JEOPARDY! all-time highest winnings list (regular games). His total winnings of $547,600 put him behind only two players in JEOPARDY! history: James Holzhauer ($2,462,216) and Ken Jennings ($2,520,700).
"The show has had so many brilliant people [on it]," Amodio said of contestants like Holzhauer and Jennings. "I'm honored to be thought of as even close to them."
Amodio returns on Friday for the final episode of JEOPARDY!'s 37th season. He will compete against Chicago's Nicolle Neulist and Eric Shi from Houston, Texas. Check local listings for show times and stations.
JEOPARDY!, America's Favorite Quiz Show™ is in its 37th season in syndication. With a weekly audience of 24 million viewers, JEOPARDY! is the top-rated quiz show on television, and has received numerous awards and honors. The show holds the Guinness World Records® title for the most Emmy® Awards won by a TV game show, and it received a Peabody Award for "celebrating and rewarding knowledge." JEOPARDY! is produced by Sony Pictures Television, a Sony Pictures Entertainment Company; it is distributed domestically by CBS Media Ventures and internationally by ViacomCBS Global Distribution Group, both units of ViacomCBS. For more information, please visit Jeopardy.com.
Follow JEOPARDY!: Jeopardy.com | Facebook | Twitter | YouTube | Instagram
# # #
Press Contacts:
Alison Shapiro Cooke
Director of Communications | JEOPARDY!
(310) 244-6514
Susie Eun
Senior Publicity Manager | JEOPARDY!
(310) 244-6517