'JEOPARDY!' TOPS $2.5 MILLION IN DONATIONS AS LEVAR BURTON WRAPS GUEST HOST RUN WITH $204,800 RAISED FOR 'READING IS FUNDAMENTAL'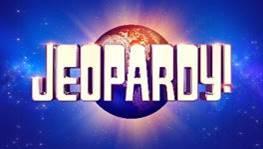 FOR IMMEDIATE RELEASE
'JEOPARDY!' TOPS $2.5 MILLION IN DONATIONS AS
LEVAR BURTON WRAPS GUEST HOST RUN WITH
$204,800 RAISED FOR 'READING IS FUNDAMENTAL'
David Faber to Guest Host August 2-6
CULVER CITY, CALIF. (July 30, 2021) ­– LeVar Burton signs off as guest host of JEOPARDY! today, and as he says goodbye, the show will make a $204,800 contribution to Reading Is Fundamental. With this amount, which is equal to the total contestant winnings during Burton's week of shows, JEOPARDY! surpassed $2.5 million in donations to all guest hosts' chosen charities so far this season.
A lifelong children's literacy advocate, Burton selected Reading Is Fundamental to receive this contribution. Reading Is Fundamental is committed to a literate America by inspiring a passion for reading among all children, providing quality content to make an impact and engaging communities in the solution to give every child the fundamentals for success. As the nation's largest children's literacy non-profit, Reading Is Fundamental maximizes every contribution to ensure all children have the ability to read and succeed.
On Monday, August 2, CNBC's David Faber will begin a week-long term as JEOPARDY! guest host. Faber has selected the Robin Hood Foundation as his chosen charity. Robin Hood is New York City's largest poverty-fighting philanthropy: for over 30 years, they've been finding, fueling, and creating the most impactful and scalable solutions to elevate families out of poverty. Last year, Robin Hood partnered with over 700 nonprofits to support food, housing, education, legal services, workforce development, and more supporting New Yorkers living in poverty across all five boroughs.
David Faber is an award-winning journalist and New York Times best-selling author. Dubbed "The Brain" by his colleagues, he is a former Celebrity JEOPARDY! champion and the current co-anchor of CNBC's "Squawk on the Street," where he has broken some of the financial world's biggest stories. Faber also anchors and co-produces acclaimed original documentaries and long-form programming for CNBC. This work has earned him Loeb, Emmy, Peabody, and duPont awards. His book, "The Faber Report," was published in spring 2002; his second book, "And Then the Roof Caved In," was published in the summer of 2009.
To watch JEOPARDY!, check local listings or visit Jeopardy.com for show times and stations.
To learn more about the charities, please follow the links below:
Reading is Fundamental: www.rif.org
Robin Hood Foundation: www.robinhood.org
JEOPARDY!, America's Favorite Quiz Show™ is in its 37th season in syndication. With a weekly audience of 24 million viewers, JEOPARDY! is the top-rated quiz show on television, and has received numerous awards and honors. The show holds the Guinness World Records® title for the most Emmy® Awards won by a TV game show, and it received a Peabody Award for "celebrating and rewarding knowledge." JEOPARDY! is produced by Sony Pictures Television, a Sony Pictures Entertainment Company; it is distributed domestically by CBS Media Ventures and internationally by ViacomCBS Global Distribution Group, both units of ViacomCBS. For more information, please visit Jeopardy.com.
Follow JEOPARDY!: Jeopardy.com | Facebook | Twitter | YouTube | Instagram
# # #
Press Contacts:
Alison Shapiro Cooke
Director of Communications | JEOPARDY!
(310) 244-6514
Susie Eun
Senior Publicity Manager | JEOPARDY!
(310) 244-6517