FIRST ON "CBS MORNINGS": THE OLDEST DAUGHTER OF "JANE ROE" REFLECTS ON HER MOTHER'S LEGACY: "EVEN THOUGH SHE WAS STRONG, SHE WAS FRAGILE"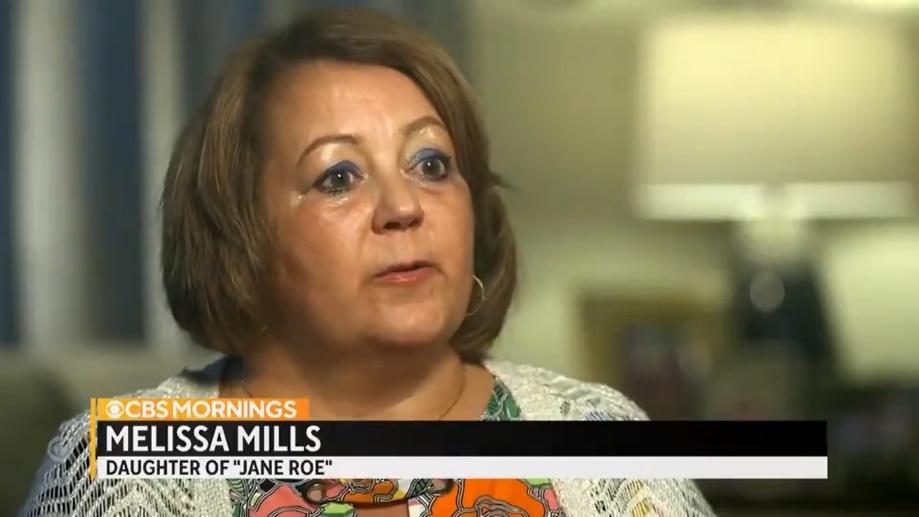 The oldest daughter of Norma McCorvey, known to the world as "Jane Roe,' the woman at the center of the landmark Roe vs. Wade case sat down with chief legal correspondent Jan Crawford for her first TV conversation about her family's complicated history.
Melissa Mills grew up treating McCorvey like her sister. It wasn't until she was a teenager that Mills realized McCorvey was her mother and she had two half-sisters. The youngest, Shelley Thornton, was the child known as "Baby Roe." Mills spoke about the day she met Thornton for the first time and the difficult relationship with their mother.
Watch & Read More Here: https://cbsn.ws/3nmC77Z

Twitter Link: https://bit.ly/2Xcii8W
On Monday, September 13, Joshua Prager, author of "The Family Roe: An American Story," joins CBS MORNINGS to talk about how he found "Baby Roe" and his decade-long work to understand the life of Norma McCorvey and her family. CBS MORNINGS airs Monday through Friday from 7:00 – 9:00 AM on the CBS Television Network and it streams on Paramount+.
Excerpts:
- On her mother, Norma: "Not everybody's meant to be a mother. And I didn't expect that of her. She was the mother she could be."

- "She was really funny. She was the life of the party. I didn't think of her as a mother figure, I thought of her more like a sister, because that's how our relationship was."

- "Yeah. She felt guilty. And people made her feel bad for the part and the role that she played with the Roe v. Wade case. And all of the babies that were aborted through the years. And people would call her a killer. They called her Satan. They called her all kinds of terrible things. And it was cruel."

- On her younger half-sisters, Shelley Thornton and her mom:

MELISSA MILLS: Shelley never met her. I think it was just too much. And I understand that. When somebody – I mean, she wanted to abort her.

JAN CRAWFORD: And she told Shelley that she expected her to thank her for not doing so.

MELISSA MILLS: Mom had…Mom had a sick sense of humor. I mean, she was…her humor was pretty harsh. And she was mad at Shelly because Shelly wouldn't do a DNA test. And when Shelly wouldn't, it kinda, you know.

JAN CRAWFORD: It kind of made her mad—

MELISSA MILLS: Made her mad.
Follow CBS MORNINGS on Twitter, Facebook, Instagram and YouTube.
* * *
Press Contacts:
| | | |
| --- | --- | --- |
| Samantha Graham | | |
| Tucker Hart | | |