CBS NEWS AND STATIONS TO PROVIDE COMPREHENSIVE, MULTI-PLATFORM COVERAGE OF THE CALIFORNIA RECALL ELECTION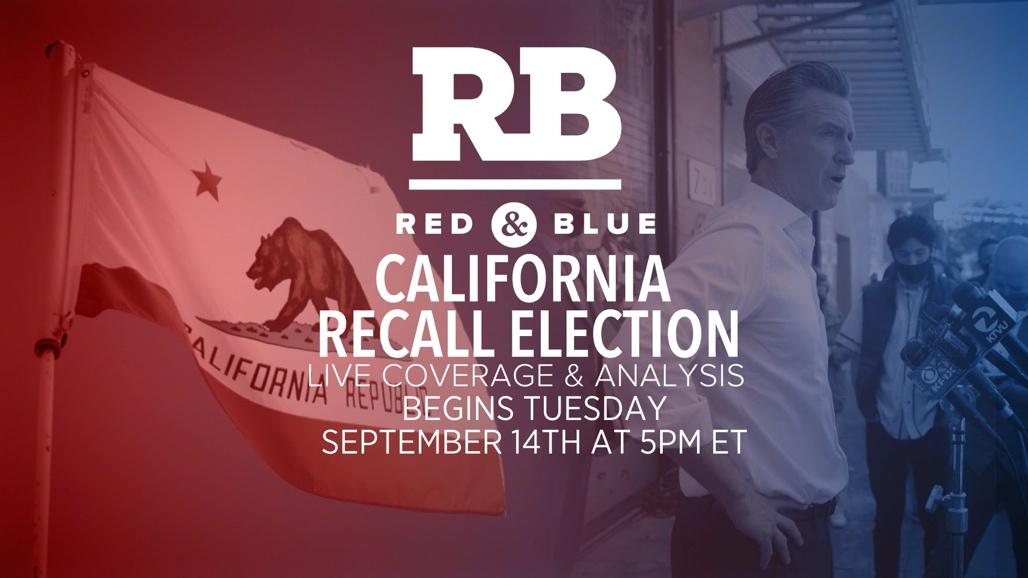 CBSN NATIONAL AND LOCAL WILL DELIVER SPECIAL COVERAGE WITH REPORTING FROM ACROSS CALIFORNIA
CBS TO HOST A LIVE, ROUNDTABLE DISCUSSION ON CBS NEWS, CBS LOS ANGELES, CBS SAN FRANCISCO AND CBS SACRAMENTO FACEBOOK PAGES TONIGHT
"CBS MORNINGS," THE "CBS EVENING NEWS WITH NORAH O'DONNELL" AND CBS-OWNED STATIONS WILL OFFER THE LATEST NEWS
CBS News and Stations will deliver comprehensive coverage and analysis of the California gubernatorial recall election on Tuesday, September 14 on all platforms with the latest on-the-ground reporting and exit polling data as votes come in.
CBSN, CBS News' 24/7 streaming news service, and CBSN channels in local California markets will provide up-to-the-minute reporting from across the state as voters decide whether to recall Governor Gavin Newsom. CBS News Elections and Surveys Director Anthony Salvanto will provide polling results and analysis from the CBS News Decision Desk across all platforms as the votes come in. CBS News' exit polls will show what was on voters' minds as they cast their ballots. All CBS News broadcasts and platforms including CBS MORNINGS (7:00-9:00 AM, ET), the CBS EVENING NEWS WITH NORAH O'DONNELL (6:30-7:00 PM, ET), CBSNews.com, CBS News Radio, CBS Newspath and CBS-owned stations will provide full coverage and the latest news from California.
Tonight, Sept. 13, CBS News senior White House and political correspondent Ed O'Keefe will moderate a Facebook Live chat with CBS Los Angeles reporter Tom Wait, CBS San Francisco anchor Kenny Choi and CBS Sacramento reporter Steve Large. The Facebook Live will be available at 9:00 PM, ET, on the CBS News, CBS Los Angeles, CBS Sacramento and CBS San Francisco Facebook pages. In addition, it will be streamed live on CBSN Los Angeles and each local market's CBSN channels following the live event.
Tomorrow, Sept. 14, CBSN anchor Elaine Quijano will lead special coverage on an extended two-hour edition of RED AND BLUE (5:00-7:00 PM, ET) on CBSN with Ed O'Keefe. Coverage will continue throughout the evening when polls close and beyond. CBS News' chief Washington correspondent Major Garrett will be reporting live from Sacramento. CBSN will also simulcast coverage from CBS-owned stations in Los Angeles (KCBS-TV and KCAL-TV), San Francisco (KPIX-TV) and Sacramento (KOVR-TV) tomorrow evening as results come in.
Follow CBS News on Twitter, Facebook, and Instagram and listen to podcasts at CBS Audio.
# # #
Press Contacts:
Lance Frank frankl@cbsnews.com
April Andrews april.andrews@cbsinteractive.com