ACADEMY AWARD NOMINEE NAOMI WATTS THOUGHT ABOUT GIVING UP ACTING EARLY ON, BUT SHE DIDN'T HAVE ANOTHER JOB TO FALL BACK ON, SHE TELLS "CBS SUNDAY MORNING WITH CHARLES OSGOOD"
WATTS TELLS LEE COWAN OF FRIEND NICOLE KIDMAN: "SHE KEPT SAYING, 'IT'S JUST GOING TO TAKE ONE THING, ONE THING – AND IF YOU'RE IN A HIT FILM – THEN EVERYTHING CHANGES"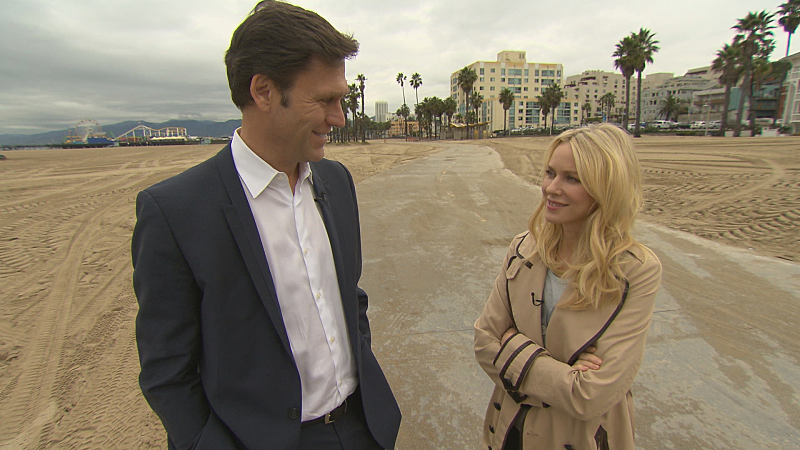 Academy Award nominee Naomi Watts wanted to be an actress since she was a child and once considered giving up, but she didn't have a fallback, she tells Lee Cowan in an interview for CBS SUNDAY MORNING WITH CHARLES OSGOOD to be broadcast Feb. 10, 2013 (9:00 AM, ET) on the CBS Television Network.
She moved to Hollywood with a five-year plan, but it soon turned into a 10-year plan, she says, adding the auditioning process could be grueling.
"Oh my God, I mean, I considered myself fairly sensitive, but I don't think a strong person could cope with it over and over again… there were moments when I was sure I was done," she tells Cowan. She considered quitting. "Oh yeah, but I didn't have a plan B really, I didn't."
So she stuck with it, relying on advice from pal Nicole Kidman to get her through the tough times. "She kept saying, 'It's just going to take one thing, one thing, Nay, and you know, if you're in a hit film…then everything changes,'" Watts recalls.
Kidman was right. Watts landed a part in director David Lynch's "Mulholland Drive," and her career blossomed. Two years later she earned an Oscar nomination for her work in "21 Grams" and conquered the box office in the 2005 remake of "King Kong." Now she's been nominated for another Oscar for her role opposite Ewan McGregor in "The Impossible," about a family that gets separated during the 2004 tsunami in Thailand.
In a wide-ranging interview, Watts talks with Cowan about the film, her career and her childhood, which included losing her father when she was 7. "It's a very sad thing for a child to only have one parent," Watts says. "To have a missing parent, it's not fair."
Cowan's interview with Watts will be broadcast Feb. 10, 2013 on CBS SUNDAY MORNING (9:00 AM, ET) on the CBS Television Network. Rand Morrison is the executive producer.
Follow CBS Sunday Morning on Twitter and Facebook.
# # #
Press Contact: Richard Huff 212-975-3328 HuffR@cbsnews.com