HEAR THE CELESTIAL SOUNDS OF THE POPE'S CHOIR AS IT RETURNS TO ITS RENAISSANCE ROOTS, ON "60 MINUTES," SUNDAY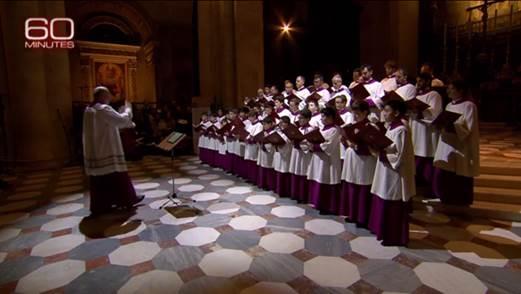 Maestro Massimo Palombella Brings Back the Unity and Spirituality of Long Ago
Before Maestro Massimo Palombella took over the Sistine Chapel Choir – better known as the Pope's Choir – the oldest singing group in the world had lost its true voice. Performing in the beauty of the Sistine Chapel, its Renaissance repertoire was written to be sung in unity, creating a cohesive spiritual sound. But for decades, big-voiced opera singers changed its style and sound. Charlie Rose profiles the choir and its pivotal change under Palombella for a 60 MINUTES story to be broadcast Sunday, Dec. 18 (7:30-8:30PM, ET/7:00-8:00PM, PT) on the CBS Television Network. Watch an excerpt.
A longtime member of the choir, Vittorio Catarci, recalls the time before the new maestro came. "We were aware we were singing too loud," he tells Rose. In fact, Rose points out, the Pope's Choir was being referred to as the "Sistine Screamers."
The mission of the men and boys of the choir has always been to create the sounds of beauty and divinity, often alongside the Pope as he says Mass or officiates at Vatican events. "We have a job to inspire people…when they hear us singing we have to direct them to consider something which is transcendent and divine," says baritone Mark Spyropoulos.
To achieve that sound again, Palombella researched the music of Giovanni Pierluigi da Palestrina, who had written choral music in Rome during 1500s. "I did not have to invent a sound," says Palombella. "I had to rediscover a sound the choir once produced in the Sistine Chapel."He was able to recreate it by learning the vocal ranges Palestrina used in his Renaissance choir. The men and especially the boys, whose soprano voices create the celestial feel of the sound, now practice three hours a day instead of three hours a week.
The giant frescoes of Michelangelo on the Sistine Chapel ceiling are among the world's most famous and beautiful. They depict Biblical scenes and other religious images, including demons and angels. The new sound created a holy harmony that was transformational for the choir and its audiences. Says Spyropoulos, "Palestrina was writing when the paint was still wet…of these incredible frescoes and when we sing Palestrina, it's not like looking at a fresco, it's the equivalent of being in a fresco."
At least one audience member sees it that way. Palombella recalls what one man said to him after a concert, "[He] said the choir I conduct is missing one thing: wings."
Follow 60 MINUTES on Twitter, Facebook and Instagram.
* * *
Press Contact:
Kevin Tedesco 212-975-2329 kev@cbsnews.com