"INSIDE THE NFL" PREMIERES TONIGHT ON PARAMOUNT+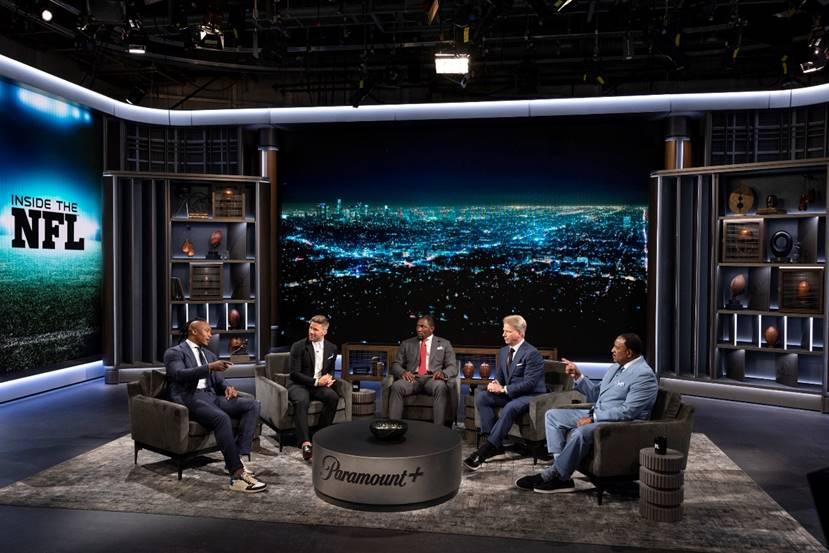 Photo Credit: Esther Lin/SHOWTIME®
Julian Edelman Makes Debut as Show's Newest Analyst and
James Brown Hosts Alongside Analysts Phil Simms, Brandon Marshall and Ray Lewis
Caesars Sportsbook Serves as First-Ever "Inside the NFL" Sponsor for Weekly Picks Segment
NEW YORK – Sept. 7, 2021 – The Emmy Award-winning studio show INSIDE THE NFL kicks off its 45th season in production premiering tonight, Sept. 7 at 9:30 PM, ET/6:30 PM, PT on its new home of Paramount+, the streaming service from ViacomCBS.
The cast features the debut of its newest member, three-time Super Bowl champion and Super Bowl LIII MVP Julian Edelman, as he joins two-time Super Bowl champion and Super Bowl XXI MVP Phil Simms in his 14th year on the show, six-time Pro Bowler Brandon Marshall, two-time Super Bowl champion and Hall of Fame linebacker Ray Lewis and three-time Emmy Award-winner and Sports Broadcasting Hall of Famer James Brown. Three-time Super Bowl champion and Hall of Fame wide receiver Michael Irvin will serve throughout the season as a contributing guest analyst. Caesars Sportsbook will be the first-ever sponsor on INSIDE THE NFL this season, serving as sponsor for the weekly picks segment.
Tonight's premiere episode explores predictions for the 2021 season, including whether the Tampa Bay Buccaneers can repeat as Super Bowl champions and which young quarterbacks will thrive. Edelman was mic'd up a record number of times by NFL Films throughout his post-season career and during last year's playoffs. Here is a compilation of those wires: (CLIP HERE). The former players share their perspectives on having their on-field commentary captured by a microphone. Plus, NFL senior writer Judy Battista joins to outline what COVID-19 vaccination status will mean for players this season and the protocols that the league has set.
Following are quotes from tonight's premiere episode:
On young quarterbacks this season…
Edelman: "I'm excited for the young quarterbacks. Starting with Tua in Miami. This guy has been healthy all offseason. This team was competitive for the last three years with Coach Flores, he went out on a limb and said 'Hey, this is my guy. Deshaun Watson is not coming here.' I want to see if he can make this team a better team and potentially make the playoffs. Also, Justin Herbert. This guy was a Rookie of the Year as an offensive guy and also had 31 touchdowns, the most ever in history for a rookie quarterback. That was exciting."
On how important permanent leadership is in a team…
Lewis: "What I think will decide the Super Bowl Champion is permanent leadership. A lot of people look at talent, and we look at the quarterbacks and how many yards and how many touchdowns they threw. But when you talk about the people that have been around for the last five, six, seven, eight, nine, 10 years, it's the ball club that has permanent leadership inside of it. The Tampa Bay Buccaneers. What they did when they brought Todd Bowles back, what Tom Brady said was: everything changed. Why? Because it's permanent leadership. The standard is set. So everybody else has to get in line. And they did. And that's why I'm telling you they have a great chance of going back-to-back. Because of their permanent leadership."
On teams that could be Super Bowl contenders…
Simms: "Two surprise teams I'm looking at this year. First is the Denver Broncos. I think that defense, Teddy Bridgewater settles the offense down, and they got a lot of good playmakers on the offensive side. And the Carolina Panthers. I think their second year under Matt Rhule, they drafted great, and I think they could be a team that could make the playoffs."
On what teams experience coming into the season after winning a Super Bowl…
Simms: "Complacency. It's in your human nature. The wear and tear of the season, which you know you need time to recover. And the Super Bowl teams don't have that time."
Edelman: "Complacency can kick in. But you are America's most wanted now. You ain't sneaking in. Everyone has you circled. Every coach, every player thinks, 'We beat this team, I'm getting a new contract, I'm getting a new job.' It's unreal when you become the target of the NFL."
On when he knew it was time to retire…
Edelman: "I think it was over when I couldn't practice the way I wanted to practice…Once I couldn't go out and perform the way I knew I had performed. I got too much respect for the game and too much respect for every guy that's played this game, and my time was over. When you're hurt and it doesn't feel good, football is not fun. If I was feeling good, and everything was roses, it'd be awesome. But once the body goes, you've got to let it go."
Super Bowl LVI predictions…
Edelman: "Green Bay-Buffalo: I'm going with the Packers against the Bills. And no one circles the wagons like the Buffalo Bills. They're taking the Super Bowl, I feel it."
Simms: "San Francisco-Buffalo: I'm going to take the Buffalo Bills even though I know it's going to be tough. They've got a really tough schedule…And the other one that I think will really be a surprise pick, when you look at their offensive and defensive line, that's enough, and the linebackers, is the San Francisco 49ers. I'm going to take the Bills to win the Super Bowl."
Lewis: "Tampa Bay-Kansas City: I think the best defense in football last year was the Bucs. This year it's going to be the Bucs. And I just don't see how you defeat that formula right now in the NFC…Until somebody proves they can beat Patrick Mahomes, then it's got to come through Kansas City…I just think it's hard to beat Tampa with what Todd Bowles has with that defense. I go Tampa."
Brandon Marshall: "Green Bay-Buffalo: I have to go with the Packers and Bills…It's the last dance, Aaron Rodgers, you've got to get it done."
INSIDE THE NFL covers every game, every week, with trademark highlights from NFL Films, special in-depth features and spirited debate on the game's hottest topics. The show is produced by CBS Sports, SHOWTIME Sports and NFL Films, with new episodes streaming Tuesday nights on Paramount+ throughout the 2021 NFL season to Super Bowl LVI.
Past cast members of the storied program dating back to 1977 have included Dan Marino, Chuck Bednarik, Nick Buoniconti, Cris Carter, Cris Collinsworth, Bob Costas, Len Dawson, Jerry Glanville, Jimmy Johnson and Boomer Esiason.
The executive producers are Sean McManus, Chairman, CBS Sports, and Stephen Espinoza, as well as Ross Ketover and Pat Kelleher of NFL Films. Pete Radovich Jr., the award-winning creative director for CBS Sports, serves as coordinating producer.
For more information about INSIDE THE NFL, visit Paramountplus.com, follow us on Twitter, Instagram and Facebook and join the conversation using #INSIDETHENFL.
* * *
CONTACTS:
Paramount+
Paul-Michael Ochoa
626-665-5352
PaulMichael.Ochoa@cbsinteractive.com
CBS Sports
Jerry Caraccioli
917-312-4940
SHOWTIME Sports
Leah Capobianco
212-708-1734