WATCH! MAGAZINE FEATURES DANIELA RUAH AND JEFF GLOR ON THE COVERS OF ITS MARCH/APRIL ISSUE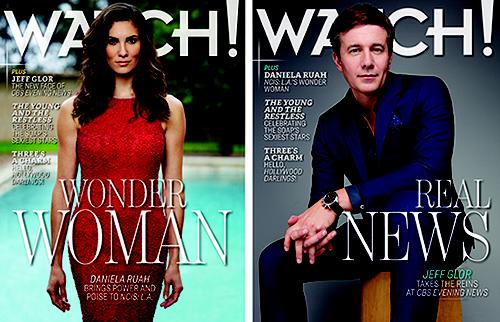 Beverley Mitchell, Jodie Sweetin and Christine Lakin (Pop's "Hollywood Darlings")
Are Saucy and Sweet in a Playful Photo Spread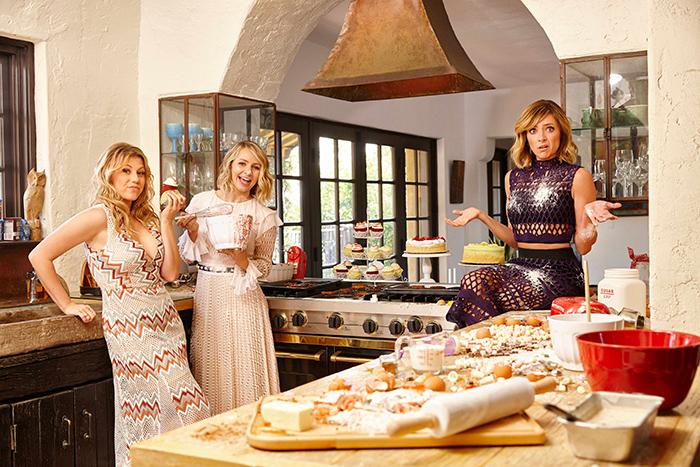 NEW YORK – March 20, 2018 – The covers of the March/April issue of CBS's Watch! magazine, available on newsstands as of today, feature NCIS: LOS ANGELES star Daniela Ruah and CBS EVENING NEWS anchor Jeff Glor. Also, Beverley Mitchell, Jodie Sweetin and Christine Lakin (HOLLYWOOD DARLINGS on Pop) go glam in a playful fashion spread.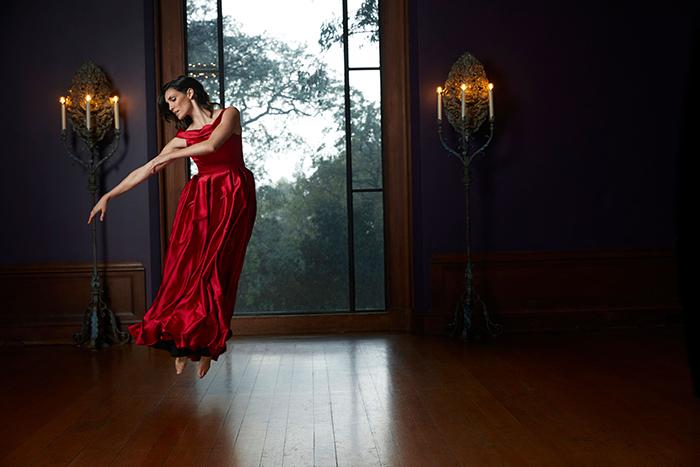 For Daniela Ruah's photo spread, which captured her modern sophistication and sexy elegance against a backdrop of Old Hollywood, she slipped into an array of sexy red – and slinky black – dresses, selected by stylist Jordan Grossman, and was photographed in a 1920s Spanish style Los Angeles home by CBS senior staff photographer Cliff Lipson. Ruah dazzled with blissful ballet moves for one shot, gamely braved the rain for two other shots, and exuded positive energy and excitement through it all. During her interview with regular Watch! contributor John Griffiths, Ruah laughs about having had a poster of Chris O'Donnell when she was in her teens, long before either of their NCIS: LOS ANGELES days; she reminisces about how she met her real-life husband through another current co-star, Eric Christian Olsen; and she chats about making the leap to the U.S. from Portugal, adding gratefully, "I came to America with a hope for an amazing future, and it came true."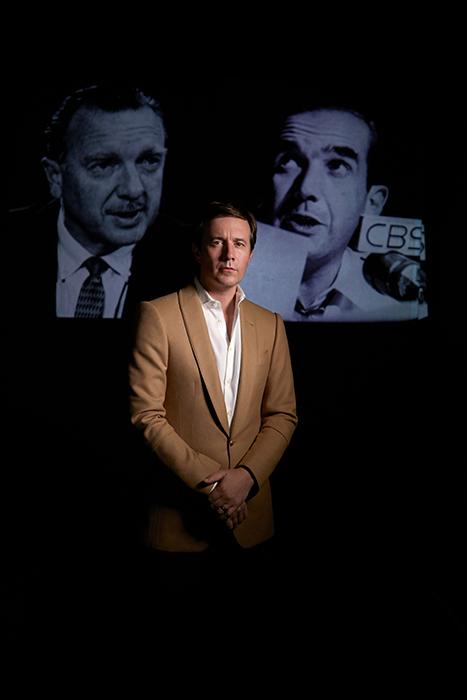 CBS EVENING NEWS anchor Jeff Glor was shot by photographer Dario Calmese in a studio in the Chelsea neighborhood of New York City. In the profile, Glor discusses his career, why he thinks it's essential to report beyond U.S. borders, being part of "a line" at CBS News that includes the legendary Walter Cronkite and Edward R. Murrow (whose photos are a backdrop in one of the Watch! shots of Glor), and the challenges he, like other parents, has deciding if/when his 8-year-old son should be made aware of tragic stories in the news. In talking about why being well versed in history is key in his line of work (he even checks out tabloids from the late 1800s in museums), Glor states, "I think it's really healthy and important to have some sense of what has happened in the past. If we don't, then I think it's easy to be reflexive – and there can be an instinct to sometimes panic and think that something is unprecedented when, with all due respect, it's really not."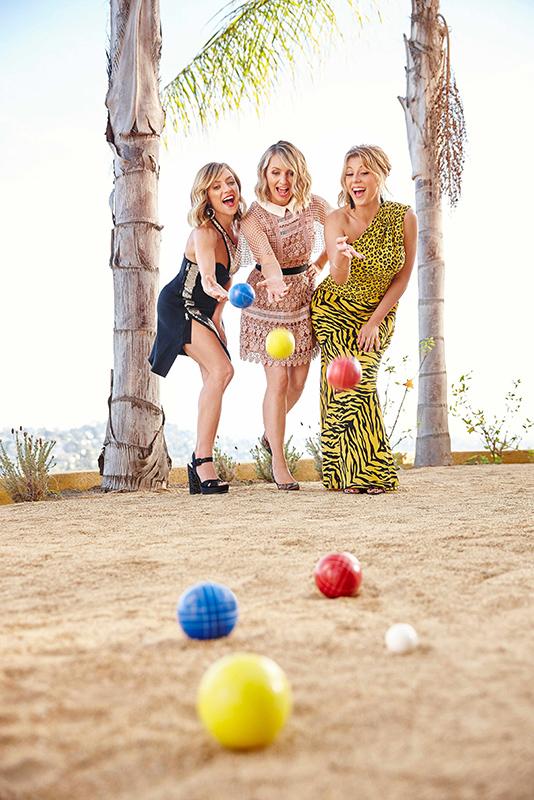 Beverley Mitchell, Jodie Sweetin and Christine Lakin's positive energy and real-life camaraderie were ideal ingredients in creating their fun and whimsical fashion spread, which was styled by Jordan Grossman and photographed by Nigel Parry in a sprawling villa in the Hollywood Hills. During their interview with Watch! columnist Emily Hirshey, the trio shared how they got their starts as child actors and first met each other as children, despite being on separate hit shows (Sweetin on "Full House," Lakin on "Step By Step" and Mitchell on "7th Heaven"); the genesis of HOLLYWOOD DARLINGS, which returns for a second season on April 18; and how it works when filming their unscripted docu-comedy series. "We have a lot of the storylines mapped out, but however we want to get that story across is sort of up to us," said Sweetin. Added Lakin, "…we'll usually go sit in the trailer with our director and our producer and go through the beats, and someone will say, 'Beverley, you take this part, we'll talk about this thing, we'll do a little improv here, we'll have the "make fun of Beverley moment" and then get back to the meat of the scene.' So we kind of know where it's all going to go."
Additional stories in the issue include:
Craig Tomashoff's celebratory feature on the 45th anniversary of CBS' THE YOUNG AND THE RESTLESS, which includes favorite moments from the series' cast and creators

Judith Newman's look at the allure of the wildly complicated Carrie Mathison, Claire Danes' notorious character on the critically acclaimed SHOWTIME series HOMELAND

A conversation with Chris Licht, executive producer of CBS' THE LATE SHOW with STEPHEN COLBERT, by Fred Schruers

A retrospective on the legendary Walter Cronkite by Elizabeth Kaye

A Q&A with Sebastian Arcelus (CBS' MADAM SECRETARY) by Brantley Bardin

Star Meredith Eaton (CBS' MACGYVER) revealing her favorite beauty products and accessories

A travel diary of Tokyo by star Zoe Lister-Jones (CBS' LIFE IN PIECES)

Star Kenny Johnson (CBS' S.W.A.T.) sharing tips on his "hidden talent" – arm wrestling (a video "how-to" is available on cbswatchmagazine.com)

Star Beulah Koale (CBS' HAWAII FIVE-0) revealing the favorite parts of his hometown of Auckland

Writer Stuart Elliott's reflections on the long-running and popular American Express campaigns ("Do you know me?" and "Don't leave home without them") which both launched in the 1970s

Star Tristan Mays (CBS' MACGYVER) sharing "7 Things that Make [Her] Smile"

The genesis of Roma Downey's new book, Box of Butterflies

Stanley Bing's column "Last Call," offering "advice" on how to refrain from playing golf on a corporate golf outing, with finesse, a golf cart – and lots of beer
Also, CBSWatchmagazine.com continues to complement the print magazine's articles while still showcasing its own unique content, including photos and videos that are original to Watch!
About Watch!
The official magazine of CBS since 2006, Watch! offers a rare, glamorous window into the lives of television and film's biggest stars. With distinctive photography by top tier talents and first class stories curated by industry veterans, Watch! has steadily become one of the most elegant, sophisticated publications today. This intriguing amalgam of entertainment, celebrity, culture, fashion, travel and beauty features talent from CBS, SHOWTIME, The CW, CBS All Access, CBS Television Distribution, Simon & Schuster, CBS Films, Pop and beyond.