CHRIS O'DONNELL EXUDES MIDWESTERN NICE, AND PHILLY'S EVE ADDS A WHOLE LOT OF SPICE, ON THE COVERS OF THE MAY/JUNE ISSUE OF WATCH! MAGAZINE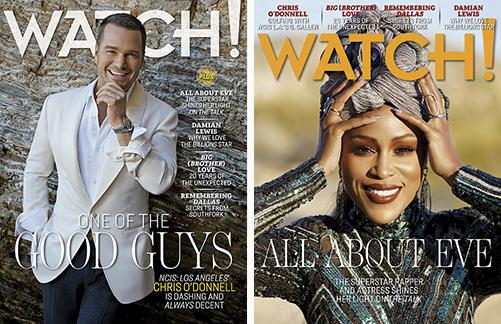 Features in the Issue Include Reminiscences from the Stars and Creator of
the Legendary Series "Dallas" 40 Years After the Hit Show's Premiere;
BIG BROTHER Tidbits and Memorable Moments as the Show Celebrates its 20th Season; and an Ode to Damian Lewis and His Riveting BILLIONS Character, Bobby Axelrod
NEW YORK – May 22, 2018 – The cover stars of the May/June edition of CBS' Watch! magazine, available on newsstands as of today, are the dazzling GRAMMY Award-winning musician, film/television actress and talk show host (THE TALK), Eve, and the dashing film/TV star (NCIS: LOS ANGELES), Broadway veteran and golf lover, Chris O'Donnell. Additional highlights in the issue include a story featuring the stars and creator of the legendary series "Dallas" reminiscing about Southfork on the 40th anniversary of the hit show's premiere; a feature full of BIG BROTHER tidbits and memorable moments as the popular and unpredictable reality show celebrates 20 seasons; and an essay on Damian Lewis and his captivating BILLIONS character, Bobby Axelrod.
E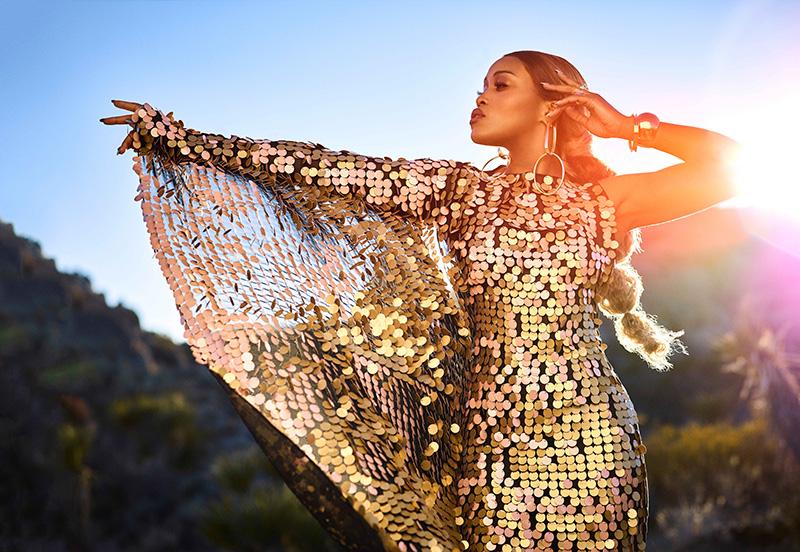 ve looks positively regal in a desert shoot photographed by Kwaku Alston and styled by June Ambrose, in the midst of Joshua Tree National Park's striking Joshua Trees and remarkable rock formations. Despite the wind and chilly temperatures, Eve was a trouper while posing in ethereal styles that exhibited a sense of sensuality and grace. During her candid interview with Malcolm Venable, Eve discusses how living in the United Kingdom has changed her; how she keeps connected with her London-based husband and four step-children now that she's hosting THE TALK in Los Angeles; what it was like starting out in the male-centric world of hip-hop; what drives her to move forward when things are trying; and how she hopes to motivate and inspire others with her own story. Says Eve: "You can design your life. I think we put limits on ourselves…I'm from Philly, I grew up in the hood, all that. But my life is amazing, and I feel truly blessed – even with the bad parts that have happened. And I would hope that, beyond words that I say, just my presence is inspiring to girls like me who come from where I've come from."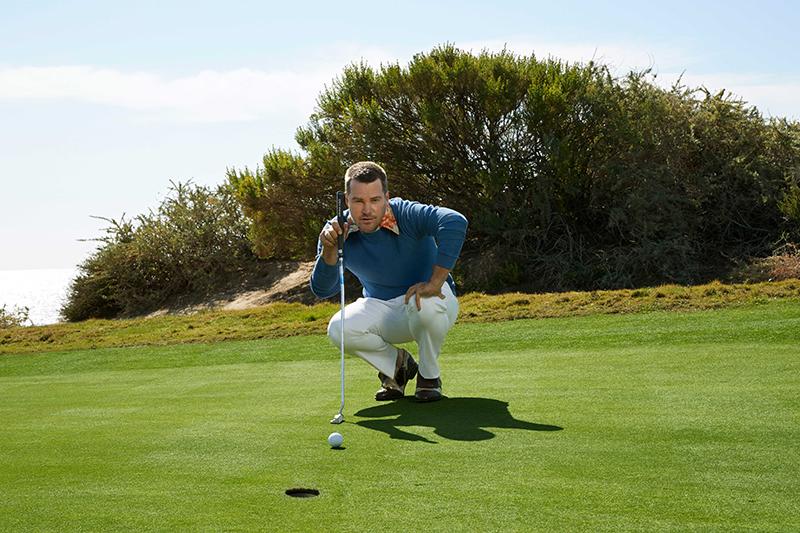 At the Resort at Pelican Hill, a luxurious ocean-side getaway in Newport Beach, Calif., the golf-loving Chris O'Donnell got into the swing of his shoot with photographer David Needleman by literally swinging clubs on one of Pelican Hill's picturesque 18-hole golf courses. Styled by Michael Nash, the wardrobe included a few items from O'Donnell's own brother's label, Johnnie-O. In Alex Bhattacharji's accompanying feature story, O'Donnell talks about growing up in Illinois; starting his career as a catalog model; his extraordinary run starring in a number of hit feature films in the 1990s; settling down with his wife at age 26; and his nine seasons – and counting – on NCIS: LOS ANGELES. O'Donnell reminisces: "The show could not have come at a better time in my life, having five young kids in school…I did have an enormous amount of [film] success right out of the gate, which probably made me take things for granted. But then I went through lows, [and] when I got another chance, I appreciated it so much more… [The series] satisfies me on a lot of different levels because we have very dramatic episodes, we do crazy action, we have some comedy…I love to do it."
Additional stories include:
Craig Tomashoff's nostalgic look back at the legendary series "Dallas" on the 40th anniversary of the hit show's premiere, with memorable moments, favorite pranks and behind-the-scenes insights that Tomashoff gleaned from creator David Jacobs and several of the series' beloved stars, including Patrick Duffy, Victoria Principal, Linda Gray, Charlene Tilton, Steve Kanaly, Sheree J. Wilson and Audrey Landers.
Nate Millado's celebration of the popular and wildly unpredictable reality show BIG BROTHER, as it returns this summer for its landmark 20th season on CBS. Millado highlights some of the biggest moments, top players and best twists, as well as the BIG BROTHER romances that are still going strong and an expert's guide to masterminding the game.
Elizabeth Kaye's essay on the talented Damian Lewis and his captivating character Bobby Axelrod on the popular SHOWTIME series BILLIONS, and Christina Banks' mini-profiles on real-life Wall Street giants Bill Ackman, Steven Cohen, Ray Dalio and Dan Loeb, with whom Axelrod shares some commonalities.
A look at CBS' successful Emmy and Peabody Award-winning investigative news program 48 HOURS as it celebrates its 30th anniversary. Tom Roston interviews senior executive producer Susan Zirinsky and correspondents Erin Moriarty and Peter Van Sant about how the program's impact journalism has helped exonerate wrongly convicted people; caused cold cases to be reopened and solved; and, through the years, increased understanding of the legal system among the general public.
Alan Cumming, the star of CBS' new series INSTINCT, chatting with Laura Passero about how his stint in the musical "Cabaret" on Broadway and his concerts inspired him to open Club Cumming, a cocktail lounge in New York City's East Village, where there's dancing, nightly performances, and, per Cumming, a big welcome to "all ages, genders, sexualities – no rules except kindness and lack of judgment."
Creator, showrunner and executive producer Barbara Hall and executive producer Lori McCreary's chat with Fred Schruers about their critically acclaimed CBS series MADAM SECRETARY; why star Téa Leoni is such an excellent fit in the title role; and their pride in the diversity in their writers' room, within their staff and among their directors.
First-time author Marcia Gay Harden, star of CBS' CODE BLACK, discussing her new book, The Seasons of My Mother: A Memoir of Love, Family, and Flowers, an homage to her mother.
Guides to high-tech Father's Day gift ideas, sizzling summer series, styles for the beach on a budget, and several of Watch! style director Sasha Charnin Morrison's favorite current fashion trends.
A new edition of the column "Last Call," in which Stanley Bing advocates, tongue-in-cheek as usual, for not missing any opportunities to grab a fruity cocktail and embark on a "summer residency," watching as many programs as possible.
Also, CBSWatchmagazine.com continues to complement the print magazine's articles while still showcasing its own unique content, including photos and videos that are original to Watch!
About Watch!:
The official magazine of CBS since 2006, Watch! offers a rare, glamorous window into the lives of television and film's biggest stars. With distinctive photography by top tier talents and first class stories curated by industry veterans, Watch! has steadily become one of the most elegant, sophisticated publications today. This intriguing amalgam of entertainment, celebrity, culture, fashion, travel and beauty features talent from CBS, SHOWTIME, The CW, CBS All Access, CBS Television Distribution, Simon & Schuster, CBS Films, Pop and beyond.
The magazine's digital properties present readers with richer pathways to continue the journey beyond the velvet rope. Timely behind-the-scenes videos and photo galleries bring the reader closer to their favorite characters and their favorite shows. The digital version of Watch! can be found at cbswatchmagazine.com. The bi-monthly print magazine is enjoyed by subscribers and sold on newsstands at select Barnes & Noble, Hudson News, Target and Walmart stores.
Media site: www.cbspressexpress.com/watch-magazine/
Website: www.cbswatchmagazine.com
Facebook: facebook.com/CBSWatch/
Twitter: https://twitter.com/CBSWatch
Instagram: https://www.instagram.com/CBSWatch
* * *
Watch! Press Contact:
| | | |
| --- | --- | --- |
| Barbara Abseck | 212-975-4637 | |