SUPERHERO STARS MELISSA BENOIST ("SUPERGIRL") AND CRESS WILLIAMS ("BLACK LIGHTNING") LIGHT UP THE COVERS OF THE SPECIAL JULY/AUGUST COMIC-CON ISSUE OF WATCH! MAGAZINE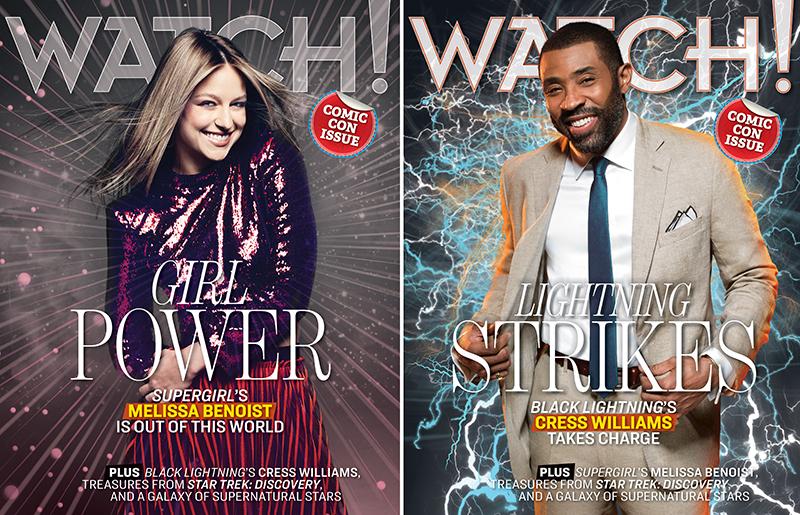 Features Include a Guide to Television's
Can't-Miss Comic Book Characters and Superhero Stars, and
the "Star Trek: Discovery" Production Designer, Costumer Designer and Prop Master Revealing What Goes into Creating a Universe that's Both Familiar and Unexpected
NEW YORK – July 19, 2018 – The July/August edition of CBS' Watch! magazine, a Comic-Con-inspired ode to television's comic book superheroes and science fiction/fantasy genre series, features covers with superhero stars Cress Williams (BLACK LIGHTNING) and Melissa Benoist (SUPERGIRL). The issue, which is on newsstands as of Tuesday, July 24, includes a guide to the heroic comic book characters who are saving the world on television each week; insights from the creative team members behind the look of the STAR TREK: DISCOVERY universe; the magazine's usual mix of fashion, beauty and travel tips; and chats with some of Hollywood's hottest stars.
During her Los Angeles-based cover shoot with Watch! director of photography Christopher Ross, Benoist was asked to channel her "inner villain" while wearing sleek styles selected by Ashley Zohar. It's a very different look and outlook from Kara Zor-El/Kara Danvers, the title character she plays on the hit series SUPERGIRL (which begins its fourth season on Oct. 14 on The CW). During her interview with Fred Schruers, Benoist chats about being a middle child; her first acting break while still in college and her subsequent role on "Glee"; portraying the wife of the just-slain Boston Marathon terrorist bomber in the film "Patriots Day"; playing a "squeaky clean" Kryptonian on SUPERGIRL; and feeling comfortable weighing in on her character's lines. "I have to feel right about it as a woman that's experiencing it…whether it's about relationships or about feeling empowered or about how you treat other people. I do, within reason, have some power, some leeway to control what the conversation is."
Cress Williams was shot by photographer Derek Blanks in Atlanta, where Williams' hit series BLACK LIGHTNING (which returns to The CW for its second season on Oct. 9) is filmed. Williams electrified the set in an eclectic mix of relaxed attire and semi-casual tailored wear styled by Christina Pacelli. In his print story, written by Oliver Jones, Williams reveals how he switched from thinking of portraying a superhero as "more of a kid fantasy than a career goal" to actively seeking such parts, despite the dearth of black superhero roles. He also talks about why BLACK LIGHTNING satisfies his need to make a difference via his craft as an actor; how his faith and religion played an important role in transforming his life; and why, with his fifth-year anniversary to his wife and their second child on the way, adding to his two children from a previous marriage, "everything feels like a second chance" to him in his personal life and career. "Not to say I completely blew my first chance, but I made some mistakes both career-wise and personally…But I feel like the lessons that I've learned are the only things that I'm taking with me. There is no baggage that I have to drag along and dispel."
Additional stories include:
Marc Bernardin's "Binge Watcher's Guide to the Galaxy… and Other Super, Comic, Can't-Miss Characters," which covers ARROW, BLACK LIGHTNING, DC'S LEGENDS OF TOMORROW, THE FLASH, RIVERDALE, SUPERGIRL, SUPERNATURAL and THE 100, all on The CW, and STAR TREK: DISCOVERY on CBS All Access.

STAR TREK: DISCOVERY production designer Tamara Deverell, costume designer Gersha Phillips and prop master Mario Moreira sharing with writer Nate Millado how they work together to create a universe for the series that's both familiar and unexpected.

An essay by Marc Bernardin on what has contributed to the newfound passion for genre fiction and escapism that has launched a television and film landscape brimming with heroes.

Ramón Rodríguez discussing his new character on the popular SHOWTIME series THE AFFAIR with writer Brantley Bardin, as well as his support of Puerto Rico after the devastating hurricane, how he was discovered at an event and started appearing in commercials as a result, and his future career plans.

Stuart Elliott relaying the dazzling history of how De Beers launched an advertising gem in the 1940s with "A Diamond Is Forever."

Wallis Currie-Woods from MADAM SECRETARY sharing some travel tips for her hometown, Austin, Texas.

How SUPERGIRL's Chyler Leigh stays focused and fit.

Swedish author Fredrik Backman telling Sam Jenkins about his newest book, Us Against You, as well as the origin of his first book, A Man Called Ove, which is being made into a film starring Tom Hanks.

A look at summer favorites from an array of stars from primetime, daytime, news and streaming programs.
Highlights of summer wardrobe, earring, beach cover-up and sunglass trends; '80s hair accessories that are making a comeback; the coolest new sneakers for men, and a recipe from Eataly L.A.

Stanley Bing's column, "Last Call," in which he reflects on his first visit to Comic-Con and how the bedlam of being immersed in superhero-costumed masses drove him to seek some "powerful" beverages.
Also, CBSWatchmagazine.com continues to complement the print magazine's articles while still showcasing its own unique content, including photos and videos that are original to Watch!
About Watch!
The official magazine of CBS since 2006, Watch! offers a rare, glamorous window into the lives of television and film's biggest stars. With distinctive photography by top tier talents and first class stories curated by industry veterans, Watch! has steadily become one of the most elegant, sophisticated publications today. This intriguing amalgam of entertainment, celebrity, culture, fashion, travel and beauty features talent from CBS, SHOWTIME, The CW, CBS All Access, CBS Television Distribution, Simon & Schuster, CBS Films, Pop and beyond.
The magazine's digital properties present readers with richer pathways to continue the journey beyond the velvet rope. Timely behind-the-scenes videos and photo galleries bring the reader closer to their favorite characters and their favorite shows. The digital version of Watch! can be found at cbswatchmagazine.com. The bi-monthly print magazine is enjoyed by subscribers and sold on newsstands at select Barnes & Noble, Hudson News, Target and Walmart stores.
Media site: www.cbspressexpress.com/watch-magazine/
Website: www.cbswatchmagazine.com
Facebook: facebook.com/CBSWatch/
Twitter: https://twitter.com/CBSWatch
Instagram: https://www.instagram.com/CBSWatch
* * *
Watch! Press Contact:
| | | |
| --- | --- | --- |
| Barbara Abseck | 212-975-4637 | |