THE ARRESTING ACTRESS MISSY PEREGRYM OF CBS' NEW HIT SERIES "FBI" AND ACCLAIMED ACTOR TAYE DIGGS OF THE CW'S CRITICALLY LAUDED NEW SHOW "ALL AMERICAN" APPEAR ON THE COVERS OF THE NOV./DEC. ISSUE OF WATCH! MAGAZINE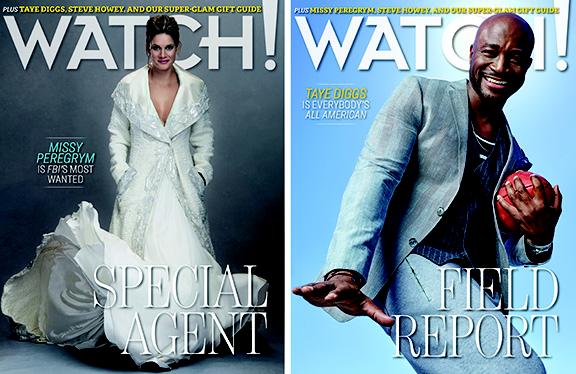 Features in This Edition Include Profiles on CBS News War Reporters
Elizabeth Palmer, Debora Patta and Holly Williams;
a Q&A with SHOWTIME star Steve Howey from "Shameless;"
and Holiday-Themed Guides for Gifts, Party Glamour and Television Viewing
NEW YORK – Nov. 20, 2018 – The November/December edition of CBS' Watch! magazine, which is on newsstands as of today, features covers with acclaimed stage, film and television actor Taye Diggs (star of The CW series ALL AMERICAN) and television and film actress Missy Peregrym (star of CBS' new hit series FBI). Also in the issue are a Q&A with SHOWTIME star Steve Howey from SHAMELESS; a story profiling CBS News war reporters Elizabeth Palmer, Debora Patta and Holly Williams; holiday-themed guides for gifts, party glamour and television viewing – and much more!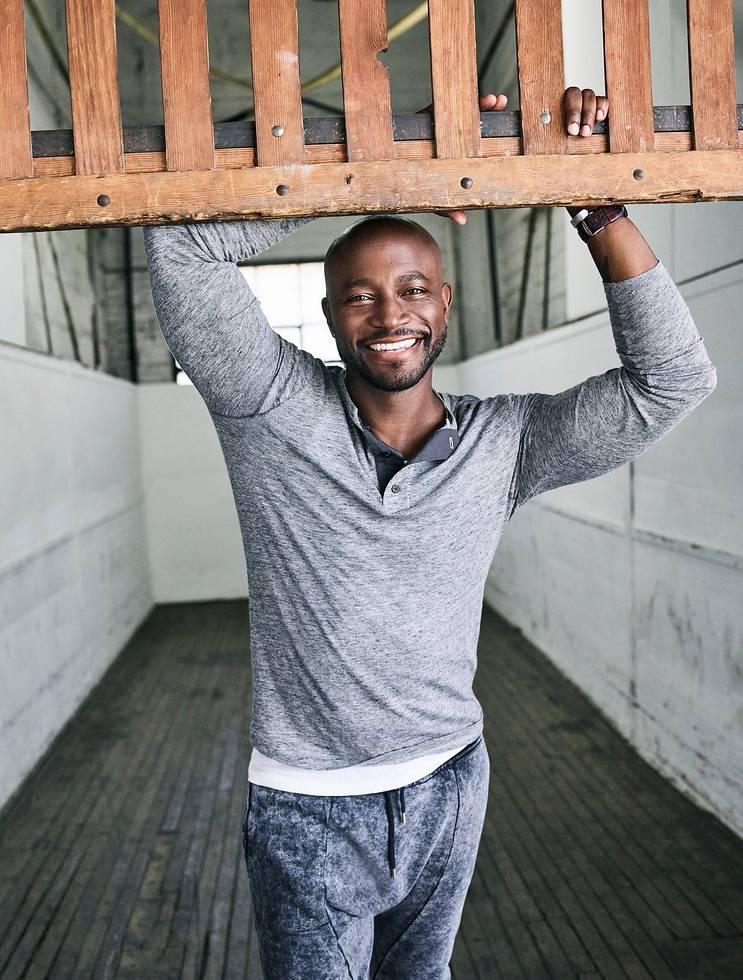 For his cover shoot, Taye Diggs was photographed by Jeff Lipsky in fashionable athletic looks, styled by Michael Nash and inspired by Diggs' hip Beverly Hills-based high school football coach character in ALL AMERICAN. During his interview with Alex Bhattacharji, Diggs discusses his love of fatherhood, his new show, his career (from almost passing on being part of the original cast of the Tony Award-winning rock musical "Rent," to being passed by for lead film roles despite his successes with "How Stella Got Her Groove Back," "The Best Man" and "House on Haunted Hill") and his gratitude for his many accomplishments. "I'm a lucky guy. I've gotten to do everything I've wanted to do – whether or not it's continued is another thing, but I've gotten to dip my toes in all these different ponds. It's been cool."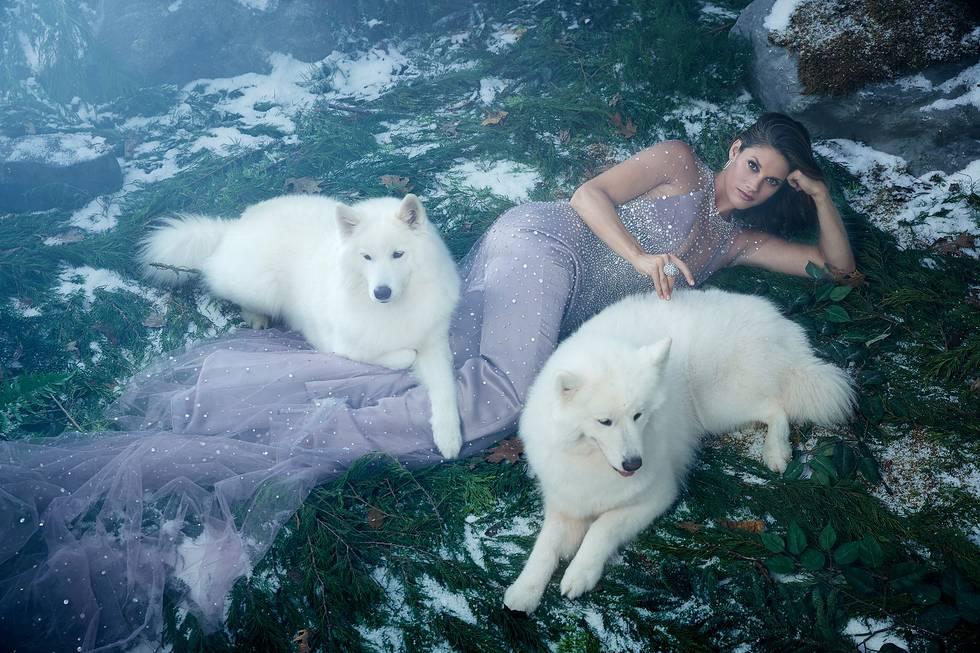 It was a wooded winter wonderland in New York City (in a Chelsea studio in July!) for Missy Peregrym's cover shoot with photographer Tom Corbett, and Peregrym, who's Canadian, relayed that she felt quite at home in the snowy setting. Styled by Nadia Rath to look a bit more glamorous than her special agent character on FBI, Peregrym delighted in the beaded gowns, capes and faux fur jacket, and in sharing the limelight with a beautiful pair of Samoyed dogs. While chatting with writer Ryan Devlin, Peregrym talks about her upcoming marriage, what she loves about living and working among New Yorkers, why she almost turned down her FBI role and what changed her mind, and how she aims to embrace opportunities that scare her, both professionally and personally. "It's a risk to step out of your comfort zone. But it's riskier to stay put."
Writer Lynn Darling caught up with three key CBS News correspondents who travel to and report from extremely dangerous war zones, such as Syria, Iraq, Sudan and the Democratic Republic of the Congo. London-based senior foreign correspondent Elizabeth Palmer, Johannesburg-based foreign correspondent Debora Patta, and Istanbul-based foreign correspondent Holly Williams, who share that they've found broadcast journalism to be refreshingly gender-blind through the years, each reveal some of their most memorable and chilling stories from the field, and relay how their spouses/partners and children keep them grounded.
Writer John Griffith's Q&A with SHAMELESS star Steve Howey delves into his childhood adventures with his "vagabond" cash-strapped acting-teacher parents, the start of his career, how his SHAMELESS alter ego has changed over the years, the appeal of being a father, and how he and his wife (Sarah Shahi) make it work despite their separate acting careers. "We live a life with many dualities, but in the chaos we make sure to keep a lot of normality in our family. Sarah and I – that'll be forever. It's epic."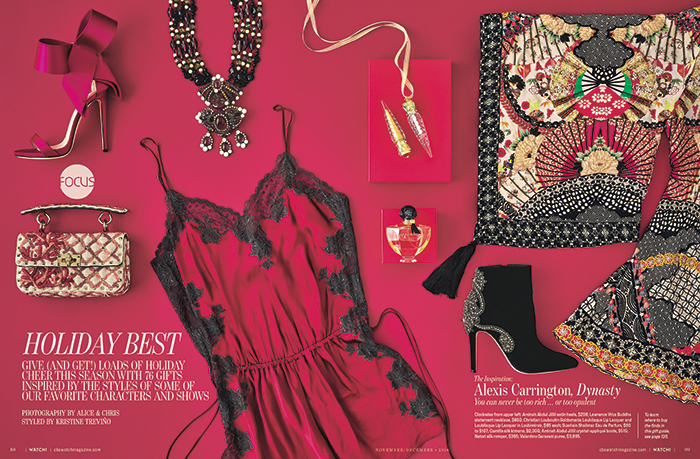 The issue's extensive holiday "Holiday Best" guide features 76 gifts inspired by the styles of a variety of popular characters and shows, such as Alexis Carrington from DYNASTY and Veronica Lodge from RIVERDALE (on The CW); Thomas Magnum from MAGNUM P.I., Sheldon Cooper from YOUNG SHELDON, and Dr. Joan Watson from ELEMENTARY (on CBS); and Commander Michael Burnham from STAR TREK: DISCOVERY (on CBS All Access).
Additional stories in the issue include:
Marc Berman's guide to getting into the holiday groove with an array of merry television specials.

Daniel Henney, sharing with Brantley Bardin how he grew up in Michigan but kick-started his acting career in South Korea; how his "strong, cool and sexy" special agent character, Matt Simmons on CRIMINAL MINDS, helps defy Asian stereotypes; how playing Simmons required him to learn a headlock that once enabled him to break up a real-life fight, and how the cast uses behind-the-scenes humor to avoid being overcome by the show's dark subject matter.

Stuart Elliott writing about several notable ad campaigns from Christmases past and how, for at least a century, marketing traditions around this holiday have been a gift that keeps on giving for Madison Avenue.

New mom Amber Stevens West (CBS' HAPPY TOGETHER) inviting Watch! into the "soothing" and "calm" nursery she and her husband created for their baby girl within their 1920s-built Spanish-style home in northwest Los Angeles.

Texas native and star Jensen Ackles (The CW's SUPERNATURAL) talking with Yolanda Crous about his new family business, a microbrewery and tap room outside of Austin.

SMILF star Raven Goodwin sharing her favorite sights and flavors of Washington, D.C. with writer Heather Rainbow.

Eric Christian Olsen (NCIS: LOS ANGELES) sharing traveling tips on his favorite spots abroad with reporter Mona Buehler.

Sam Jenkins' interviews with popular author Kate Morton about her sixth novel, The Clockmaker's Daughter, and with celebrity trainer Alex Penix about his diet and exercise book, Seven Sundays, which also incorporates spirituality.

Fred Schruers' feature on Nan Graham, a book editor currently serving as senior vice president and publisher of Simon & Schuster's Scribner imprint, who has been a nurturing talent behind successful authors such as Stephen King, Don DeLillo and Frank McCourt, and oversaw the publication of Salman Rushdie's The Satanic Verses.

Tips on the latest trends for party makeup and holiday and resort wear.
Also, CBSWatchmagazine.com continues to complement the print magazine's articles while still showcasing its own unique content, including photos and videos that are original to Watch!
About Watch!
The official magazine of CBS since 2006, Watch! offers a rare, glamorous window into the lives of television and film's biggest stars. With distinctive photography by top tier talents and first class stories curated by industry veterans, Watch! has steadily become one of the most elegant, sophisticated publications today. This intriguing amalgam of entertainment, celebrity, culture, fashion, travel and beauty features talent from CBS, SHOWTIME, The CW, CBS All Access, CBS Television Distribution, Simon & Schuster, CBS Films, Pop and beyond.
The magazine's digital properties present readers with richer pathways to continue the journey beyond the velvet rope. Timely behind-the-scenes videos and photo galleries bring the reader closer to their favorite characters and their favorite shows. The digital version of Watch! can be found at cbswatchmagazine.com. The bi-monthly print magazine is enjoyed by subscribers and sold on newsstands at select Barnes & Noble, Hudson News, Target and Walmart stores.
Media site: www.cbspressexpress.com/watch-magazine/
Website: www.cbswatchmagazine.com
Facebook: facebook.com/CBSWatch/
Twitter: https://twitter.com/CBSWatch
Instagram: https://www.instagram.com/CBSWatch
* * *
Watch! Press Contact:
| | | |
| --- | --- | --- |
| Barbara Abseck | 212-975-4637 | |