SERIES/FILM STAR NINA DOBREV, DAYTIME DRAMA LEGEND MELODY THOMAS SCOTT, AND THE "TREK" UNIVERSE'S NEWEST SPOCK, ETHAN PECK, APPEAR ON THE COVERS OF THE MARCH/APRIL ISSUE OF WATCH! MAGAZINE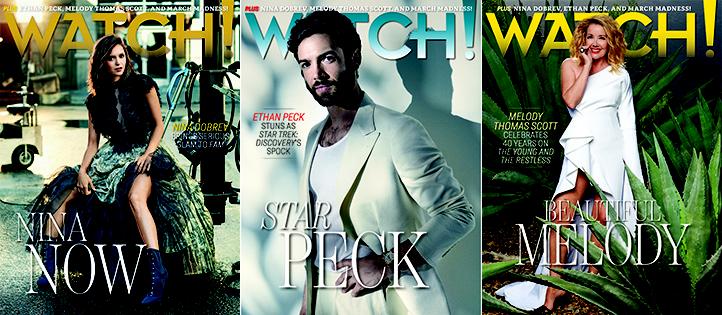 Also in This Edition: Stars Give Back Through Charitable Causes; a Guide to Must-Have Spring Styles; a Q&A with SHOWTIME Star Regina Hall of "Black Monday"; and a
Look Back at 10 Historic NCAA March Madness Moments
NEW YORK – March 19, 2019 – The March/April edition of CBS' Watch! magazine, which hits newsstands today, features covers with series/film star Nina Dobrev (CBS' new Thursday night comedy series FAM), daytime drama legend Melody Thomas Scott (currently celebrating her 40th year on CBS' THE YOUNG AND THE RESTLESS) and the newest Spock, Ethan Peck (the latest addition to CBS All Access' popular original series STAR TREK: DISCOVERY).
Additionally, this edition includes a story on an array of stars' charitable causes; a guide to must-have spring styles; a Q&A with SHOWTIME star Regina Hall of BLACK MONDAY; a look back at 10 historic NCAA March Madness moments – and much more!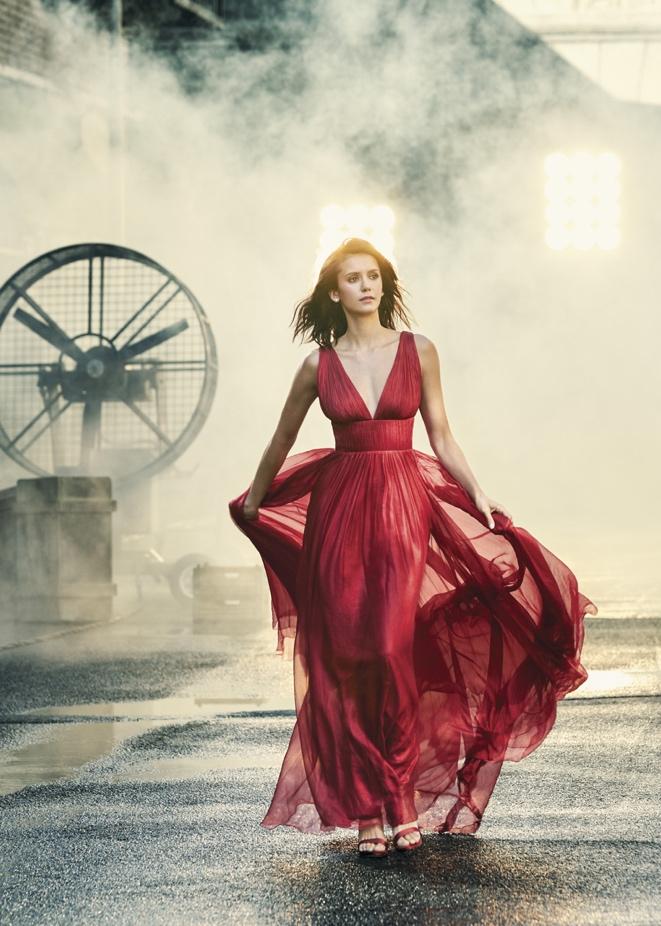 Nina Dobrev exudes Old Hollywood glamour in the opulent designer attire selected by stylist Katie Bofshever for Dobrev's "behind-the-scenes" themed Watch! cover shoot, photographed by Jason Kim on the "New York Street" backlot of CBS Studio Center in Studio City, Calif. Though the Bulgarian-born Dobrev, who was raised in Canada, does, indeed, love fashion, she shares with writer John Griffiths that she has her parents' "Eastern European frugality:" "I know where money should be spent, the things I need versus the things that I want. For the most part, if I splurge, it's on experiences, not things. I'll travel, because I want to have amazing experiences with the people that I love." Also in the story, Dobrev reveals what it's like filming in front of a studio audience for her first comedy (FAM); the "most Bulgarian thing" about her; what kind of kid she was growing up; what she does to stay centered; and what "fam" means to her. Says Dobrev, "Family means unconditional love, sometimes to a fault...I also believe that you have your blood relatives and then you have your love relatives – that's what I call them. Your friends are the family that you choose. So I have multiple families…the common thread between them all is love. That's what really fulfills me."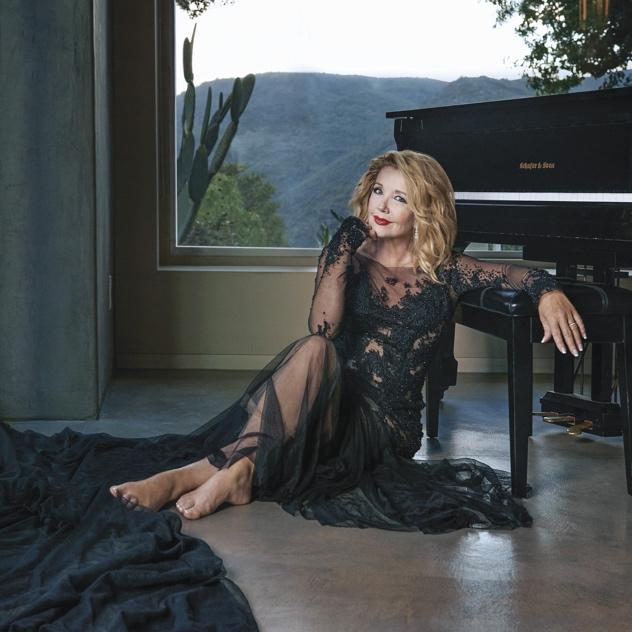 For Melody Thomas Scott's chic cover shoot, she was styled by Christina Pacelli in a mix of dazzling gowns and elegant dresses, and photographed by Andrew Eccles on the grounds of a lavish Malibu estate. During her interview with Malcolm Venable, Thomas Scott discusses why she has relished her 40 years as the "cunning," "tough" and evolving Nikki Newman on THE YOUNG AND THE RESTLESS, adding lightly that "[Nikki's] not anybody I would want to be friends with. I wouldn't trust her for anything." When asked how playing Nikki has informed her life, Thomas Scott answers, "She's taught me humility. Sometimes if I go out shopping and I see a woman behaving like Nikki, I will recognize that immediately and I think, 'Thank God I'm not really like that.'"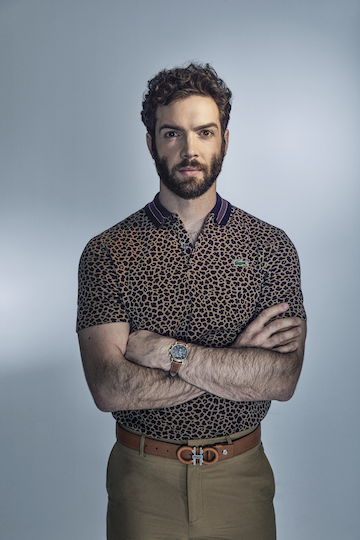 The dashing Ethan Peck's cover shoot was photographed by Matthias Clamer in a studio in New York City's Chelsea neighborhood. He was styled by Watch! style director Sasha Charnin Morrison. Despite being the grandson of the legendary Gregory Peck and having worked steadily since the age of 9, Peck tells writer Sara Vilkomerson that he had been contemplating changing careers shortly before being cast as the most famous Vulcan of all – Spock. In addition to talking about his childhood and his early start in the industry, the pressure of playing an iconic character like Spock, meeting the late Leonard Nimoy's family as part of his research for the role, and how it felt to be in the Spock makeup for the first time, Peck relays why the show seems aspirational to him: "I feel like what's going on in the world right now – the news, the media, the stories of hatred versus love – it's so polarizing… This show feels like the perfect antidote to that. It's this vision of a welcoming and loving future where there's acceptance and unity. It's where diversity is second nature and acceptance is first, and we're all searching for a better way to live unified."
Sam Jenkins highlights several of the many CBS stars who use their influence to support worthy causes. Among those profiled are Danielle Campbell from CBS All Access' TELL ME A STORY as well as CBS stars Tichina Arnold and Beth Behrs (THE NEIGHBORHOOD), Violett Beane (GOD FRIENDED ME), Sami Gayle (BLUE BLOODS), Kate Linder (THE YOUNG AND THE RESTLESS), Bojana Novakovic (INSTINCT), Thomas Sadoski (LIFE IN PIECES), and Norah O'Donnell (CBS THIS MORNING).
Actress Regina Hall reflects on some of her roles with Watch! columnist Brantley Bardin, sharing why she thinks the film "Girls Trip" was such a box office sensation; why she's appreciative of the dialogue "The Hate U Give" created; and what she likes about playing Dawn, a "cutthroat" Wall Street trader in 1987 in the new SHOWTIME comedy series BLACK MONDAY.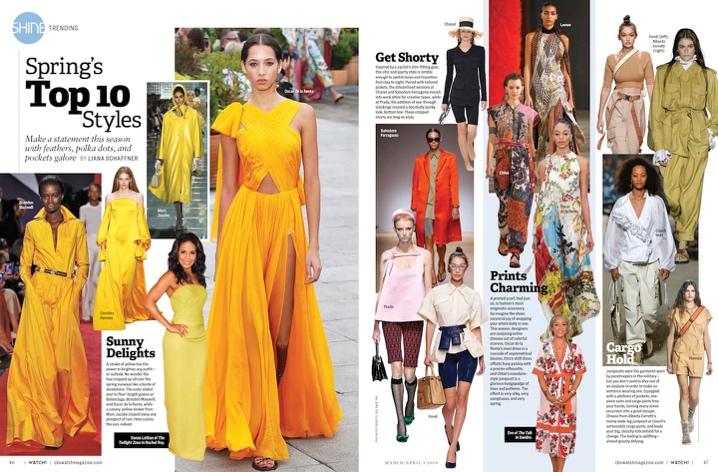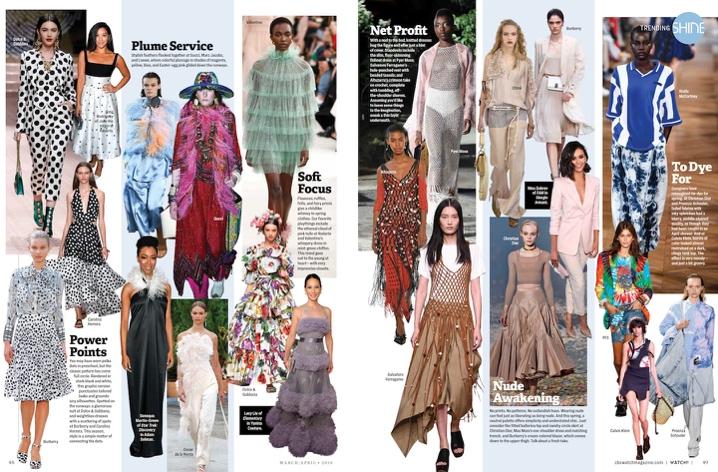 The issue's "Trending" section features a preview of spring's top 10 styles – from bold yellow pieces to feathery accents on dressy designs. Also, in her column "Casa de Sasha," style director Sasha Charnin Morrison relays how "spot on" the leopard look remains, reminiscing about first wearing the wild style in 1993, after Fran Drescher boldly donned it, head-to-toe, on "The Nanny."
Also, writer David Walters recollects some of the "most heart-pounding, buzzer-beating, school-spirit-lifting" highlights from NCAA March Madness history.
The issue's additional stories include:
Fred Schruers' "Scene Makers" column, in which he chats with Army veteran and actor/producer/technical director Tyler Grey about how Grey helps keep it real on CBS' military drama SEAL TEAM.

Stuart Elliott's "Ad Vantage" column, remembering the resonant "two great tastes that taste great together" campaign that launched in the '70s for Reese's Peanut Butter Cups.

"24 Hours with…Jeff Glor," which takes readers through a typical day for CBS EVENING NEWS anchor Jeff Glor, as reported by David Hochman.

THE CW star Jeanine Mason (from new drama ROSWELL, NEW MEXICO), talking with John Griffiths about her childhood passion for dancing and scoring a spot on "So You Think You Can Dance" in 2009, which helped pave the way for guest-starring and recurring roles on some of television's most popular series before being cast in her current lead role.

A Q&A with best-selling author Lisa See, who talks with Sam Jenkins about the research she did for her latest novel "The Island of Sea Women," set in Korea during and following WWII, how her adventurous grandmother's spirit continues to impact her books' characters, and how she's been shaped by the Chinese side of her family.

"10 Things That Make Me Smile," a gratitude list from country legend and ACM Awards host Reba McEntire, as told to David Hochman.
Also, CBSWatchmagazine.com continues to complement the print magazine's articles while still showcasing its own unique content, including photos and videos that are original to Watch!
About Watch!
The official magazine of CBS since 2006, Watch! offers a rare, glamorous window into the lives of television and film's biggest stars. With distinctive photography by top tier talents and first class stories curated by industry veterans, Watch! has steadily become one of the most elegant, sophisticated publications today. This intriguing amalgam of entertainment, celebrity, culture, fashion, travel and beauty features talent from CBS, SHOWTIME, The CW, CBS All Access, CBS Television Distribution, Simon & Schuster, CBS Films, Pop and beyond.
The magazine's digital properties present readers with richer pathways to continue the journey beyond the velvet rope. Timely behind-the-scenes videos and photo galleries bring the reader closer to their favorite characters and their favorite shows. The digital version of Watch! can be found at cbswatchmagazine.com. The bi-monthly print magazine is enjoyed by subscribers and sold on newsstands at select Barnes & Noble, Hudson News, Target and Walmart stores.
Media site: www.cbspressexpress.com/watch-magazine/
Website: www.cbswatchmagazine.com
Facebook: facebook.com/CBSWatch/
Twitter: https://twitter.com/CBSWatch
Instagram: https://www.instagram.com/CBSWatch
* * *
Watch! Press Contact:
| | | |
| --- | --- | --- |
| Barbara Abseck | 212-975-4637 | |