BRIDGET MOYNAHAN, DONNIE WAHLBERG, WILL ESTES AND VANESSA RAY ARE THE COVER STARS FOR THE SPECIAL "BLUE BLOODS" ISSUE OF WATCH! MAGAZINE, ON NEWSSTANDS NOW THROUGH MID-JULY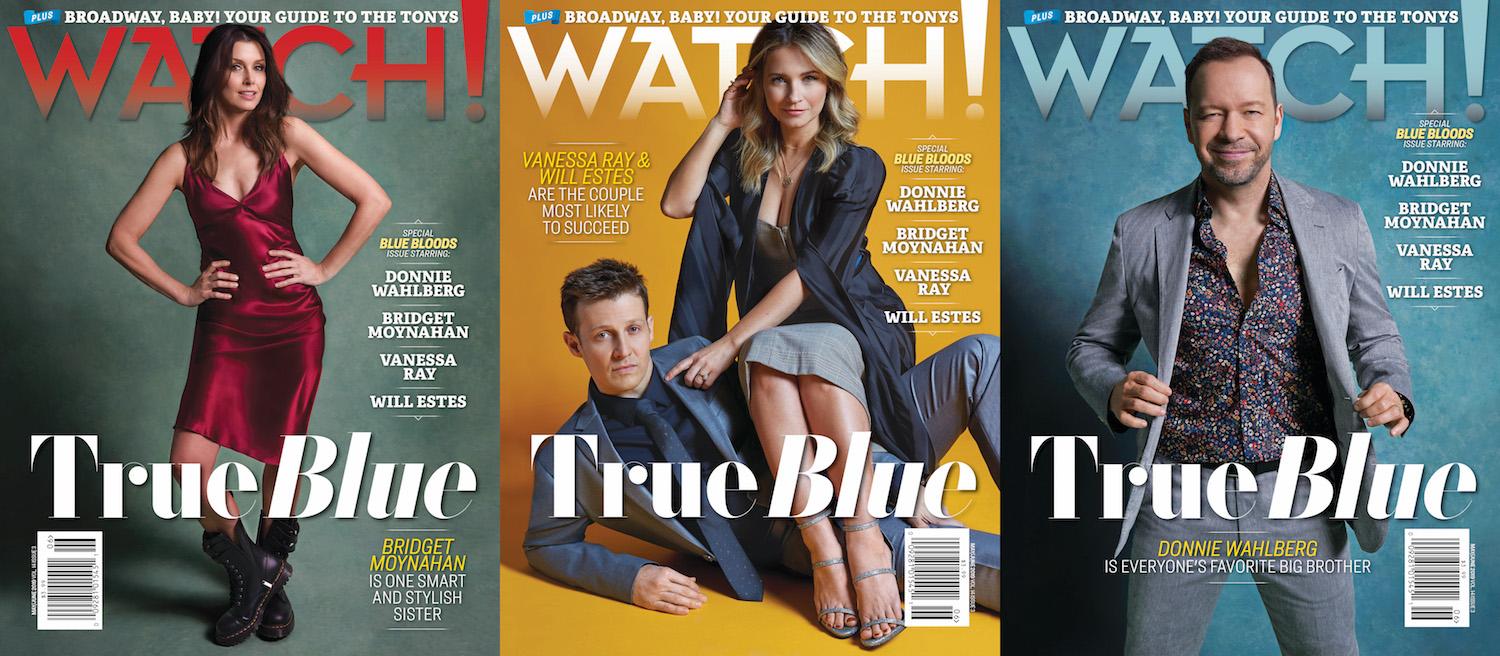 Also in This Edition Are a Nostalgic Look Back at Decades of Show-Stopping
Tony Awards Moments, a Celebration of 30 Seasons of "The Amazing Race,"
a Q&A with "Entertainment Tonight" Co-Host Kevin Frazier, "24 Hours With…" Heather Tom ("The Bold and the Beautiful"), and a Guide to Superb Summer Fashions
NEW YORK – May 21, 2019 – The special BLUE BLOODS issue of CBS' Watch! magazine features covers with four of the hit series' beloved stars: Donnie Wahlberg, Bridget Moynahan, Will Estes and Vanessa Ray. This May/June issue, on newsstands now through mid-July, also includes a nostalgic look back at decades of show-stopping moments from past Tony Awards broadcasts, a celebration of 30 seasons of heart-stopping action on THE AMAZING RACE, a Q&A with ENTERTAINMENT TONIGHT co-host Kevin Frazier, "24 Hours With... Heather Tom" (THE BOLD AND THE BEAUTIFUL), a guide to superb summer fashions, and much more!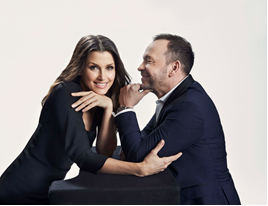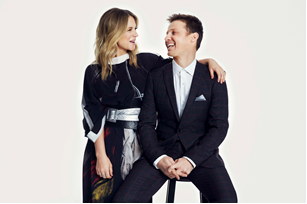 It's been exactly eight years since Watch! featured multiple covers of BLUE BLOODS cast members shortly after the end of the popular show's freshman season. For the newest BLUE BLOODS issue, Moynahan, Wahlberg and Estes were once again photographed by David Needleman, and Vanessa Ray (who joined the series in season four as Estes' character's cop partner, who just became his wife in the high-rated ninth season finale) was a welcome cover addition.
When the cast members gathered for their shoots – Moynahan and Wahlberg one day, and Estes and Ray the next – their kinship was palpable. They were playful and supportive of each other and enjoyed reminiscing about fun/special times they've shared with their entire TV family. This fall, BLUE BLOODS' Reagan clan will return for its 10th season, premiering with its 200th episode – and, as usual, Watch! will be along for the ride!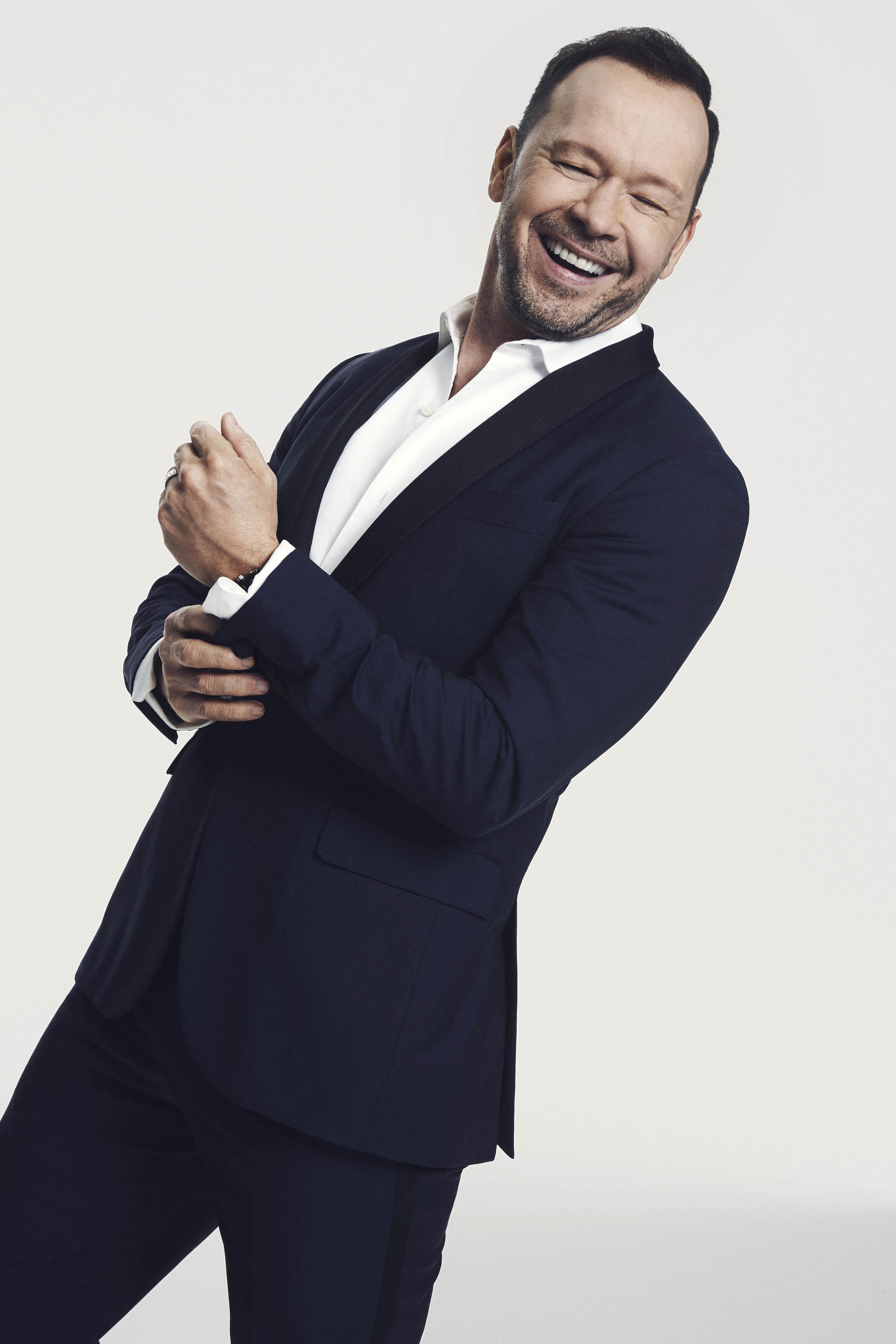 Wahlberg, styled by Watch! style director Sasha Charnin Morrison, was a bundle of positive energy and cheerful collaboration at the photo studio. While being interviewed by Fred Schruers during a break at the shoot, Wahlberg talked about the evolution of his BLUE BLOODS character, how he and Bridget have had a "parallel journey as friends and have been there for each other," how Tom Selleck encourages the improvising Wahlberg does during the dinner scenes ("What a great thing that the head of the table trusts me. It means the world to me."), and his continued appreciation for the role: "I never could understand when an actor would say they got burnt out on a TV show…We fight so hard to get these jobs. I worked for years just to get an acting gig, and I'm hearing of actors quitting shows because they're bored. And I think, 'What the hell are you talking about?'"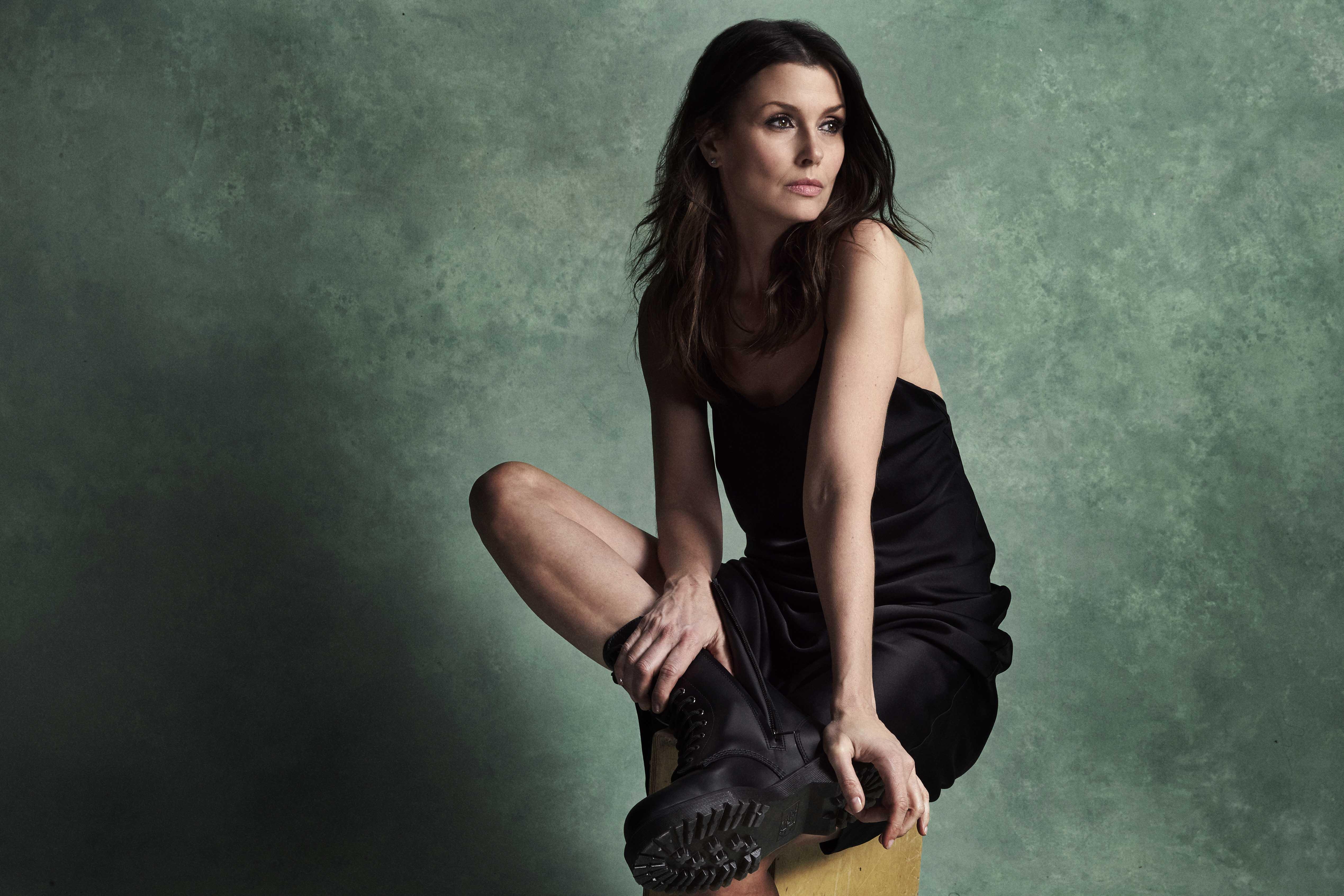 Moynahan's modeling background was evident as she posed with a soulful vitality in an array of feminine formal dresses and tailored looks, also selected by Morrison. During her interview with Chip Brown, Moynahan discusses her childhood and early career, the inspiration for her second book, Our Shoes, Our Selves: 40 Women, 40 Stories, 40 Pairs of Shoes, a charity benefitting girls that's receiving some of the book's proceeds, and the boots that helped bolster her battered confidence 12 years ago, when she was the subject of a tabloid press frenzy. She also talks warmly of her BLUE BLOODS experience ("The show feels like family now") and some of the particularly emotional moments the show and actors have tackled this past season. "There's a level of vulnerability in some performances," she says. "Vulnerability has a stigma of being weak, but it's inspiring."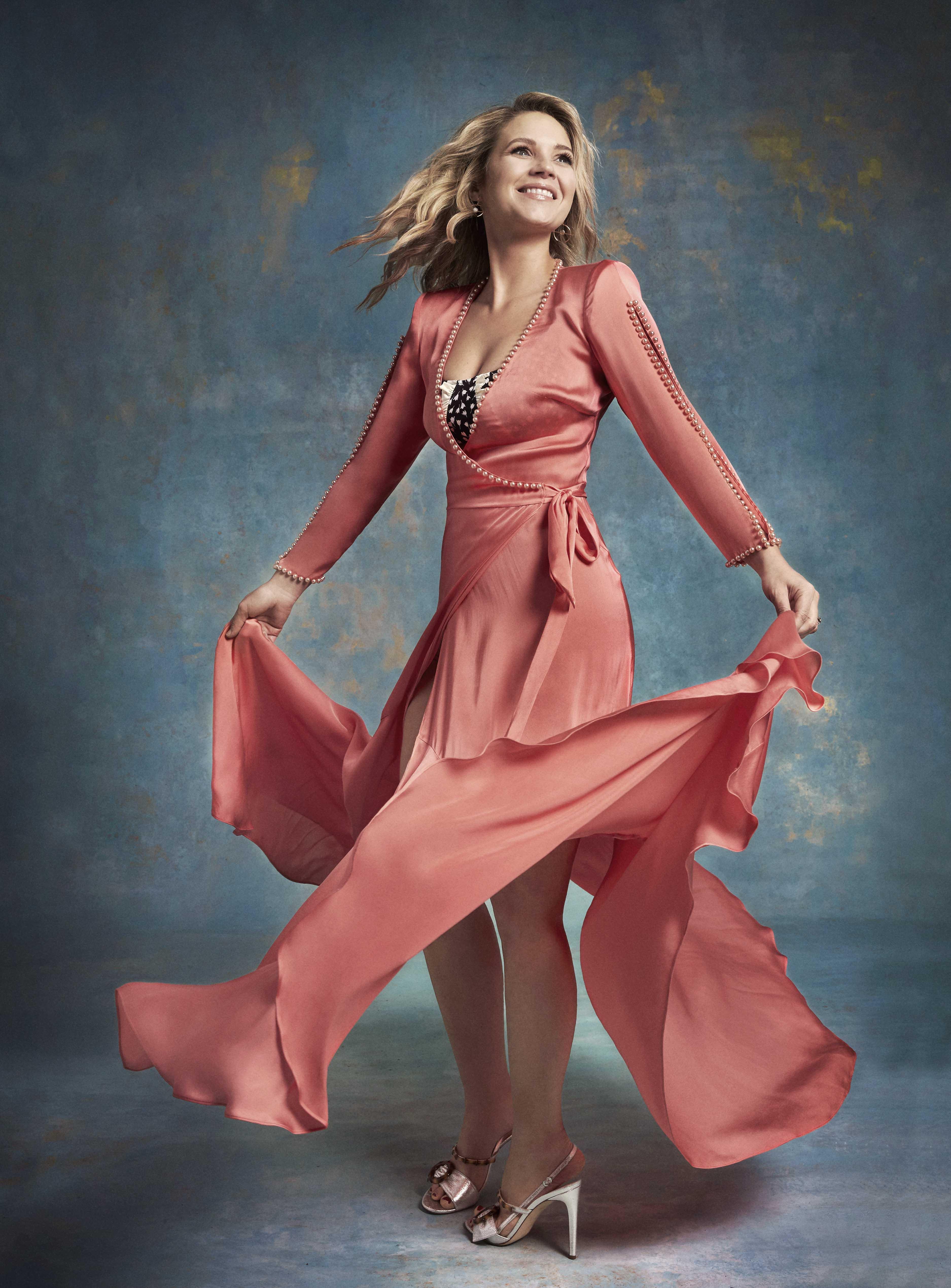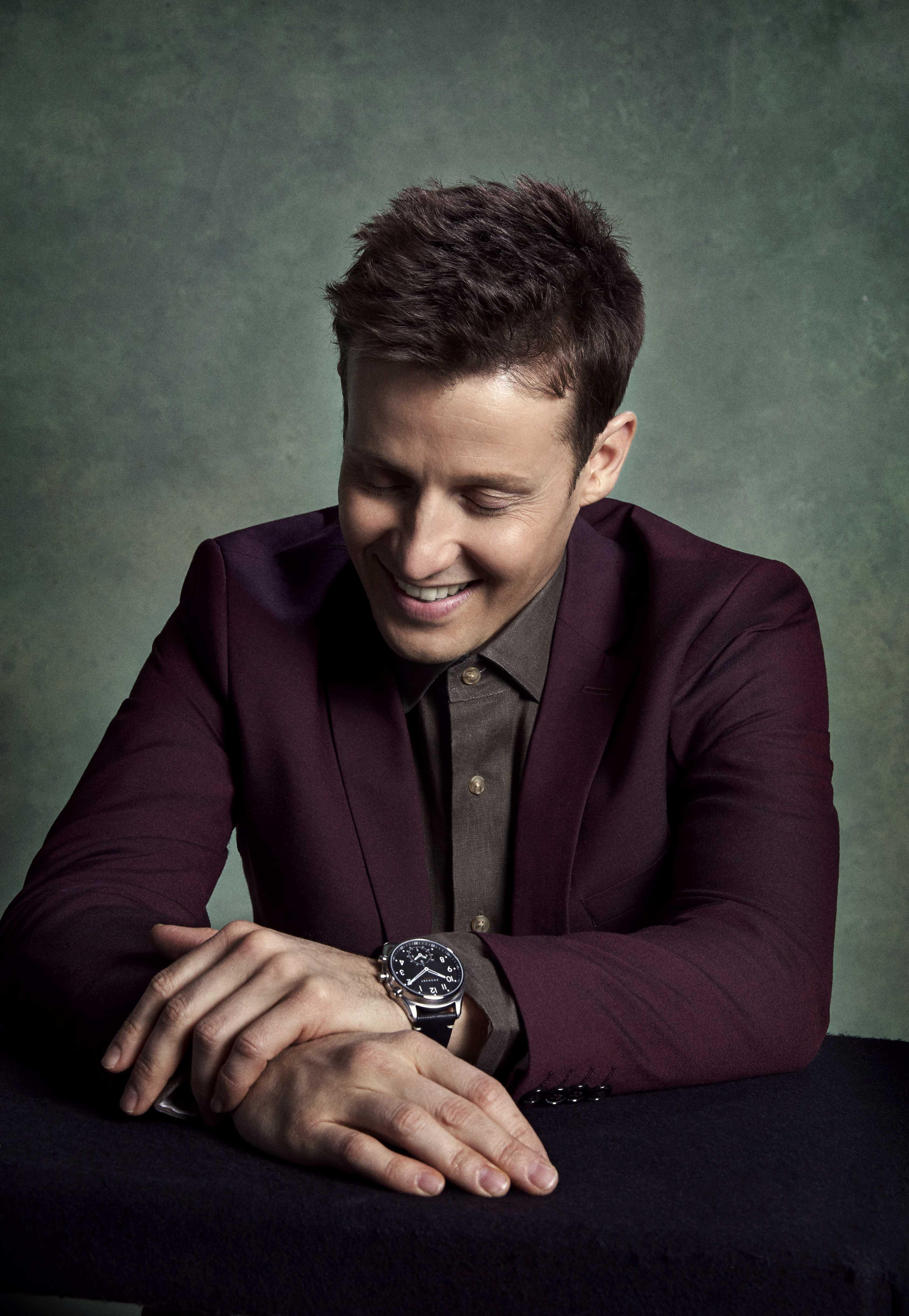 Estes and Ray, both styled by Christina Pacelli, each got a kick out of the glamorous shoot and offered each other heartfelt compliments about how the other looked in various ensembles. Interviewed together by Jessica Shaw, the TV couple talked about their first auditions for their roles, their initial reactions to hearing their characters would couple up (Estes: "We were nervous about what it was going to mean once we were together"), how their off-camera conversations often make it into the scripts, having some street cred with New York City police officers (Ray: "It is fun to live in New York City and hear cops in a grocery store or something going, 'Hey, Janko [their characters' combined name from fans on social media].' For them to recognize anything that we do is the best thing about this job."), and how one day in the makeup trailer military veteran Tom Selleck ended up teaching Ray how to salute and stand at attention for her role.
Also, in honor of CBS' THE 73rd ANNUAL TONY AWARDS® broadcast on June 9, writer Melissa Rose Bernardo provides a nostalgic Tony Awards Viewers Guide, which includes Tony Awards trivia, a look back at the top 10 favorite Tony telecast performances, five sensational song-and-dance moments by Tony hosts, a look at some of the most infamous Tony snubs – and 10 winning looks on past Tony red carpets.
Additional stories in the issue include:
Phil Keoghan, host of THE AMAZING RACE for 18 years, reminiscing about 30 seasons of racers and milestones for the show, which is currently in its 31st season.

ENTERTAINMENT TONIGHT co-host Kevin Frazier relaying to Brantley Bardin how he couldn't help feeling like a regular fan while spending time with a certain legendary musician, how he's learned to face the fact that not every interview will be perfect nor will every star love chatting with him, and how lucky he feels to be married to someone who balances what he does. "I'm interviewing celebrities while she's out there defending people [as a Los Angeles public defender] on the worst days of their lives."

"24 Hours with…Heather Tom," taking readers through a typical day for THE BOLD AND THE BEAUTIFUL star (who is also a rising TV director, interior designer, wife and mom).

A summer fashion guide based on the vastly different signature styles of the four female characters on Pop's hit series SCHITT'S CREEK, plus separate stories on must-have colors and looks for the season.

CBS SUNDAY MORNING executive producer Rand Morrison talking about creating a blend of news, culture and quirky human interest stories. Says Morrison, "I love this show. It's like being given a gift…We have 90 minutes. We can do almost anything, in a way that we can be proud of and our audience is happy with. We have 6 million viewers. So how can you complain?"

GOD FRIENDED ME star Suraj Sharma sharing how – and why -- he's rediscovering the power of martial arts.

Novelist Mary Beth Keane talking about the inspiration for her newest book, Ask Again, Yes, and what she hopes readers will take away from it.

CBS Sports lead play-by-play announcer Jim Nantz and Kerry Haigh, the chief championships officer of the Professional Golfers' Association of America, recalling highlights of past PGA Championships.

Sofia Pernas, star of CBS' new globe-trotting adventure series BLOOD & TREASURE, revealing some of her favorites styles, designers, beauty products and accessories.
Also, CBSWatchmagazine.com continues to complement the print magazine's articles while still showcasing its own unique content, including photos and videos that are original to Watch!
About Watch!
The official magazine of CBS since 2006, Watch! offers a rare, glamorous window into the lives of television and film's biggest stars. With distinctive photography by top tier talents and first class stories curated by industry veterans, Watch! has steadily become one of the most elegant, sophisticated publications today. This intriguing amalgam of entertainment, celebrity, culture, fashion, travel and beauty features talent from CBS, SHOWTIME, The CW, CBS All Access, CBS Television Distribution, Simon & Schuster, CBS Films, Pop and beyond.
The magazine's digital properties present readers with richer pathways to continue the journey beyond the velvet rope. Timely behind-the-scenes videos and photo galleries bring the reader closer to their favorite characters and their favorite shows. The digital version of Watch! can be found at cbswatchmagazine.com. The bi-monthly print magazine is enjoyed by subscribers and sold on newsstands at select Barnes & Noble, Hudson News, Target and Walmart stores.
Media site: www.cbspressexpress.com/watch-magazine/
Website: www.cbswatchmagazine.com
Facebook: facebook.com/CBSWatch/
Twitter: https://twitter.com/CBSWatch
Instagram: https://www.instagram.com/CBSWatch
* * *
Watch! Press Contact:
| | | |
| --- | --- | --- |
| Barbara Abseck | 212-975-4637 | |