THE COLLECTIBLE NEW "CRIMINAL MINDS" ISSUE OF WATCH! MAGAZINE FEATURES COVERS WITH THE HIT SERIES' KILLER CAST AND THEIR REFLECTIONS ON THE SHOW AS IT APPROACHES ITS 15TH – AND FINAL – SEASON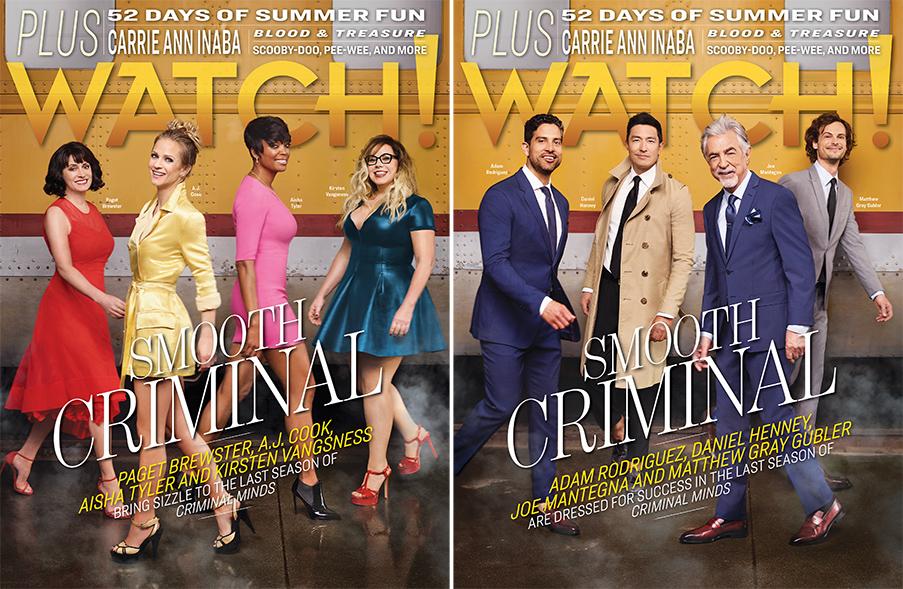 The Photo Shoot, Inspired by the Hitchcock Film "Strangers on a Train," Showcases
"Criminal Minds" Stars Paget Brewster, A.J. Cook, Aisha Tyler and Kirsten Vangsness on One Cover – and Matthew Gray Gubler, Daniel Henney, Joe Mantegna and Adam Rodriguez on the Other, with Assorted Pairings and Solo Shots Inside the Issue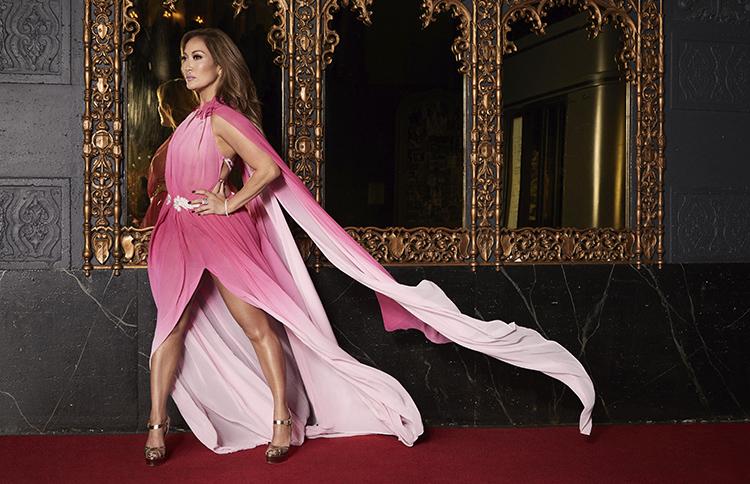 Also in this Edition, the Captivating Carrie Ann Inaba (a Host of "The Talk")
Wears Timeless Styles and Elegant Gowns for Her Glamorous Fashion Portfolio
In a 1920s Movie Palace and Chats about Her Life and Dreams
Additional Coverage includes a Guide of What to Watch, Read and Explore This Summer; Details on the Globe-Trotting Escapades Involved in Filming CBS' Summer
Action-Adventure Series "Blood & Treasure"; 24 Hours with "Entertainment Tonight" Co-Host Nancy O'Dell; Conversations with "Elementary" Showrunner Rob Doherty and Star Sam Jaeger of "Why Women Kill"; and a Celebration of the Goofiest and Greatest Children's TV Shows throughout the Decades
NEW YORK – July 23, 2019 – The collectible new CRIMINAL MINDS issue of CBS' Watch! magazine, on newsstands now through mid-September, presents covers with the hit series' killer cast and their reflections on the show as it approaches its 15th – and final – season. Also in this edition, THE TALK's captivating Carrie Ann Inaba, featured in a glamorous fashion portfolio set in a 1920s movie palace, chats about her life and dreams. Additional coverage includes a guide of what to watch, read and explore this summer; details on the globe-trotting escapades involved in filming CBS' summer action-adventure series BLOOD & TREASURE; 24 hours with ENTERTAINMENT TONIGHT co-host Nancy O'Dell; conversations with ELEMENTARY showrunner Rob Doherty and star Sam Jaeger of WHY WOMEN KILL; a celebration of the goofiest and greatest children's TV shows throughout the decades; the latest fashion trends; and, as usual, much more!
For the cover shoot, which was inspired by Alfred Hitchcock's 1951 psychological thriller "Strangers on a Train," CRIMINAL MINDS stars Paget Brewster, A.J. Cook, Matthew Gray Gubler, Daniel Henney, Joe Mantegna, Adam Rodriguez, Aisha Tyler and Kirsten Vangsness gathered at the Travel Town Museum, a railway museum located in Griffith Park in Los Angeles, where they were photographed by Robert Trachtenberg on and around full-sized vintage locomotives.
The female and male cast members, styled respectively by Annie Jagger and Michael Nash in travel attire with a nod to the 1950s, were at times emotional during their interview with writer David Hochman, during which they talked about the impending last season, their favorite memories from the show, and the "hot tub wine machine."
"Rossi is my longest-running role," said Mantegna. "I came in with dark hair, and now it's gray. I arrived [during season three] without much of a game plan, and the show and character are now a deep part of who I am. This cast is a true family for me." Shared Brewster, "We watched [Adam's] family grow… [He] had a kid. A.J. had two kids. I met my husband on set. We've been lucky enough to live our lives and develop together as people." As for the hot tub wine machine, Vangsness shared: "It's an epic hot tub party at my house that the women on the show have turned into a standing gig – or more like a floating gig… I co-wrote the finale, and we tried to cram in as many little Easter eggs and satisfying plot tie-ups as we could, both for fans and for each other. So, within the episode, you'll see the BAU version of hot tub wine machine."
Asked to reveal a tad more about season 15, Cook relayed, "Well, I can tell you we will find out what happens now that A.J. [Cook] has expressed her true feelings for Dr. Reid [Gubler]." "Don't you mean 'Jeid?'" interjected Gubler. "That's what the internet is calling us." Shared Henney, "Overall, I'd say [season] 15 has more of an arc through the episodes than previous seasons. Our unsub, Chameleon, is played by Michael Mosely, and he's definitely into some gruesome, creepy stuff." Added Tyler, "And people wonder why my house in L.A. is like a fortress and I'm armed! I'd say it's a direct result of CRIMINAL MINDS. This show is definitely dark." Per Rodriguez, "I meet young people all the time, teenagers, who love the show and say they love the game of it all – figuring out how these processes work and the skills that go into solving crimes. I think we've probably inspired a generation of people to go into this important work – on the good-guy side, not on the bad."
Also in this edition, Carrie Ann Inaba, who joined THE TALK as a host earlier this season, was photographed by Marc Baptiste in timeless styles and elegant gowns, selected by stylist Rhonda Spies. The setting was the majestic Theatre at ACE Hotel, a restored 1920s movie palace in downtown Los Angeles, and for two of the many set-ups Inaba, a talented dancer herself, was photographed in the midst of several ballet dancers. While chatting with writer John Griffiths, Inaba shared why dance has always served a greater purpose for her, going back to dancing hula as a child in Hawaii ("Dance was always an expression of myself, and a way to cope with my own emotions"); wisdom from her mother ("Do whatever you want in life – just don't hurt people. She also taught us to be very honest…we're very blunt and open with each other…It's what makes our bond so special."); how her health conditions and limitations have helped her shift to understand who she is as a whole person ("It actually made me appreciate my health and life so much more."); what she loves about THE TALK and has learned from her current co-hosts and future one [Marie Osmond] ("I'm single now, for the first time in a while. These women have given me advice, indirectly and directly, about my choices. I've been able to look at myself in a way that I've never been able to before."); her passion for animals, which fuels her Animal Project Foundation; and her dreams/aspirations.
Additional coverage in the issue includes:
A 10-page guide providing refreshing ideas for filling the heavenly long days of summer with a mix of viewing, reading, cooking and mini-adventures.

Details on the behind-the-scenes exploits involved in filming CBS' new summer action-adventure series BLOOD & TREASURE, which was recently renewed for a second season, and which took the stars and crew to four countries in three continents over 150 days of shooting for season one.

Marc Berman's nostalgic roundup of the goofiest and greatest in children's television shows through the decades, including "Captain Kangaroo," "Tom and Jerry," "Scooby-Doo, Where Are You!," "The Archie Show," "Josie and the Pussycats," "Pee-wee's Playhouse," "Teenage Mutant Ninja Turtles" – and many more.

ENTERTAINMENT TONIGHT co-host Nancy O'Dell sharing a breakdown of a typical day in her life – while at home with her daughter and dogs, and at work – in "24 Hours with…"

Rob Doherty, the creator/executive producer of ELEMENTARY, now in its seventh and final season, reminiscing with columnist Fred Schruers about how this successful modern version of Sherlock Holmes came to be, how star Jonny Lee Miller's intuitive acting choices ultimately impacted the scripts, how Lucy Liu proved more than a match in her role, and what it's like bringing the show to a close.
TELL ME A STORY (CBS All Access) star Sam Jaeger's Q&A with columnist Brantley Bardin about Jaegar's role in CBS All Access' new summer series WHY WOMEN KILL.

Best-selling author Ruth Ware (The Woman in Cabin 10, among other best-sellers) talking about the motivations behind her newest novel, the thriller The Turn of the Key, about a nanny with secrets, a reputedly haunted home equipped with numerous "smart" devices – and murder.
Star Jessica Green, who works out five days a week to play her sword-wielding character on The CW's fast-paced fantasy-adventure drama THE OUTPOST, shares her favorite moves and her secrets for staying motivated.

Style and beauty tips, from achieving the resurrected boho style, to the new "glamorous sunglasses chains that drip down from your temples like precious baubles," to the beauty products, clothing and accessories that MAGNUM P.I. star Perdita Weeks can't live without.
Also, CBSWatchmagazine.com continues to complement the print magazine's articles while still showcasing its own unique content, including photos and videos that are original to Watch!
About Watch!
The official magazine of CBS since 2006, Watch! offers a rare, glamorous window into the lives of television and film's biggest stars. With distinctive photography by top tier talents and first class stories curated by industry veterans, Watch! has steadily become one of the most elegant, sophisticated publications today. This intriguing amalgam of entertainment, celebrity, culture, fashion, travel and beauty features talent from CBS, SHOWTIME, The CW, CBS All Access, CBS Television Distribution, Simon & Schuster, CBS Films, Pop and beyond.
The magazine's digital properties present readers with richer pathways to continue the journey beyond the velvet rope. Timely behind-the-scenes videos and photo galleries bring the reader closer to their favorite characters and their favorite shows. The digital version of Watch! can be found at cbswatchmagazine.com. The bi-monthly print magazine is enjoyed by subscribers and sold on newsstands at select Barnes & Noble, Hudson News, Target and Walmart stores.
Media site: www.cbspressexpress.com/watch-magazine/
Website: www.cbswatchmagazine.com
Facebook: facebook.com/CBSWatch/
Twitter: https://twitter.com/CBSWatch
Instagram: https://www.instagram.com/CBSWatch
* * *
Watch! Press Contact:
| | | |
| --- | --- | --- |
| Barbara Abseck | 212-975-4637 | |