WATCH! MAGAZINE'S FALL PREVIEW ISSUE FEATURES COVERS WITH FAN-FAVORITE PATRICIA HEATON, WHO RETURNS TO TV IN "CAROL'S SECOND ACT," THE TALENTED CAST OF THE HIGHLY ANTICIPATED NEW SERIES "EVIL," AND THE CRITICALLY ACCLAIMED CO-HOSTS OF "CBS THIS MORNING"
In Their Cover Stories, Gayle King, Anthony Mason and Tony Dokoupil Discuss the Joys of Teamwork and What Their Fellow "CBS This Morning" Co-Hosts Bring to the Mix; "Evil" Stars Katja Herbers, Mike Colter and Aasif Mandvi Talk About Their Instant Camaraderie and How Their Backgrounds Are Impacting Their Characters and the Show, and Patricia Heaton Reveals Why She Relates to "Carol's Second Act" and How Volunteering for an International Humanitarian Aid Organization Has Opened Her Eyes
NEW YORK – Sept. 24, 2019 – The fall preview issue of CBS' Watch! magazine, on newsstands now through mid-November, features covers with fan-favorite Patricia Heaton (who returns to TV in the title role of the new comedy series CAROL'S SECOND ACT); stars Katja Herbers, Mike Colter and Aasif Mandvi (of the highly anticipated new series EVIL); Gayle King, Anthony Mason and Tony Dokoupil (the critically acclaimed co-hosts of the newly relaunched CBS THIS MORNING); and intel on this season's hottest shows. Among the abundant additional offerings in this September/October edition are a guide to the fabulous new fall styles, a Q&A with comedic actress Michaela Watkins (who stars in the new series THE UNICORN), a "24 Hours With" feature on popular SURVIVOR host Jeff Probst, a chat with acclaimed veteran actor Kyle MacLachlan about winemaking and his starring role in CAROL'S SECOND ACT, and a conversation with best-selling author Alice Hoffman about her newest novel, The World That We Knew.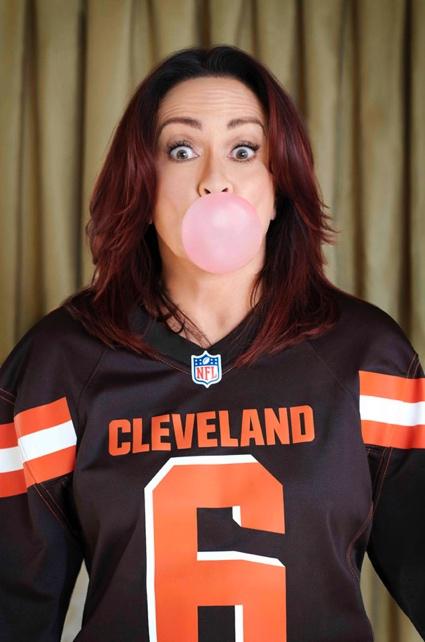 Patricia Heaton's cover spread, a fun mix of glamour and whimsy, was styled by Linda Medvene and shot by Andrew Eccles at a Beverly Hills estate. In talking to writer John Griffiths about playing the title character in CBS' new comedy CAROL'S SECOND ACT (premiering Thursday, Sept. 26), about a 50-year-old woman who pursues her dream of becoming a doctor after raising her children, getting divorced and retiring from teaching, Heaton shares how she relates to Carol. "It used to be that as women got older, they became more invisible," Heaton says. "But this is a great time to be a woman. I have a lot of experience, and hopefully wisdom, that I can offer others. And so does Carol…We need people around us who have experienced a lot in life, who understand the brevity of it, who can tell younger people, 'Don't worry so much about the things you're worrying about.'" Unlike Carol, Heaton admits, "My husband would tell you I don't have the greatest bedside manner. I'm like, 'Snap out of it!'" Heaton also relays why she's grateful her career jumpstarted after she was married and starting a family, why it's been important to her to visit refugee camps in Africa and the Middle East, as a result of her commitment to the humanitarian aid organization World Vision International, how she's maintaining a healthy lifestyle, and what she's doing outside of acting to "keep the creative juices flowing and not get complacent."

For their cover shoot, Katja Herbers, Mike Colter and Aasif Mandvi, stars of CBS' new psychological mystery series EVIL (premiering Thursday, Sept. 26), spent a sultry day in the sunshine at the historic Hollywood Roosevelt hotel, a setting and vibe quite different from their show, on which their characters examine the origins of evil along the dividing line between science and religion. Styled in classic resort-wear by Molly Dickson and Michael Nash, the cast members were shot by husband-and-wife team [Mark] Williams + [Sara] Hirakawa. When writer Fred Schruers chatted with the stars separately on location at the photo shoot, a common theme was their instant camaraderie: Said Colter, "We get each other, we get along, there's a chemistry there. And I feel like the characters can go any way we want them to go." Additionally, Herbers, who is Dutch, revealed how her comedic background is actually proving useful in her role: "One of my favorite actors is Julia Louis-Dreyfus. She's just a goddess of comedy. And I think [EVIL creators/executive producers, Robert and Michelle King] were interested in my comedy work, because I actually come from comedy in Holland. They were looking for someone who can do some drama, but also has a lightness, has a bit of a twinkle sometimes, can bring some fun to this darkness." In contrast to his character, who firmly disbelieves in miracles, demonic possessions and the like, Mandvi shared, "I was raised in an Indian Muslim family, and it was very common for my grandparents to talk about ghosts, and demons, spirits, things like that. It was just the tapestry of how they grew up and what they believed… Robert King was really interested in sort of hearing about some of those things, which feels very collaborative."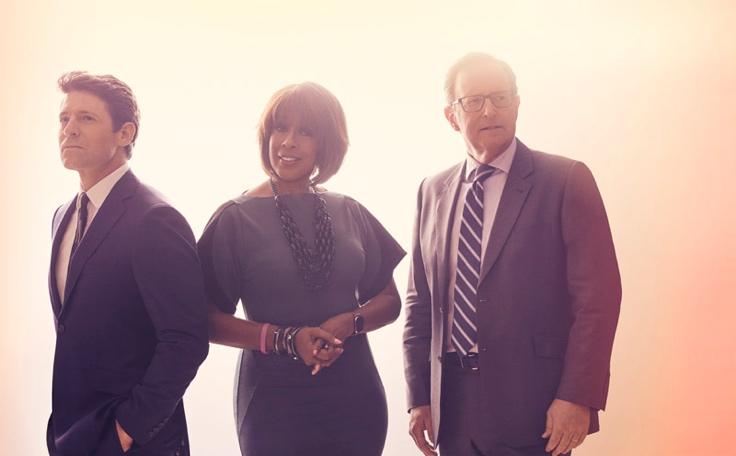 The shoot for CBS THIS MORNING's veteran co-host Gayle King and her fairly new co-host partners, Anthony Mason and Tony Dokoupil, was photographed by Ramona Rosales in the CBS Broadcast Center in New York City, where the trio delivers two hours of original reporting, breaking news and top-level newsmaker interviews each weekday morning. When writer Lynn Darling interviewed the expert interviewers, who began working together in May, she uncovered their outlooks on life and their program, the sorts of challenges that live television sometimes brings their way, and how they're each savoring the varying backgrounds and talents their fellow co-hosts bring to the mix. Regarding her position on the newly relaunched CBS THIS MORNING and her much-lauded interview with R. Kelly earlier in the year, King said, "I'm 64. It's interesting to me that this is all happening at 64. I keep waiting for this grown-up feeling to kick in…I've had all the grown-up stuff. You know, married, divorced …death of parents. All of that. But I still have such joy for life and being on the planet… Knock on wood, may that never change." Emphasizing that working on CBS THIS MORNING is a team sport, King says, "To me, it's very exciting that I have that easiness and comfortability every single day." Mason adds, "The moment I sat down next to [King] for the first time, I was blown away by how natural a broadcaster she was, and how much of herself was on television." Said Dokoupil, "There's a million things that could happen out there – you flub a read or the prompter goes out – and until they happen to you, you haven't done it and you've got to learn. That's why Gayle and Anthony are the perfect people to be doing this with, because they've done it a million times, and if anything goes wrong, they can pick it up." With regard to his approach to the show, Mason added, "To me a show has to have a philosophy and a point of view. And by that I don't mean a political point of view. I mean what's important to you in the world. This is where you tell people who you are, what touches you, what makes you laugh, what makes you tick…These choices give people a sense of who you are and where you're coming from, and that colors every broadcast, start to finish…Everyone is bringing something a little different, but everybody also respects each other…There are real possibilities here. We're just scratching the surface of where this can go." Added King, "That's what's exciting, because I believe it's only going to get better."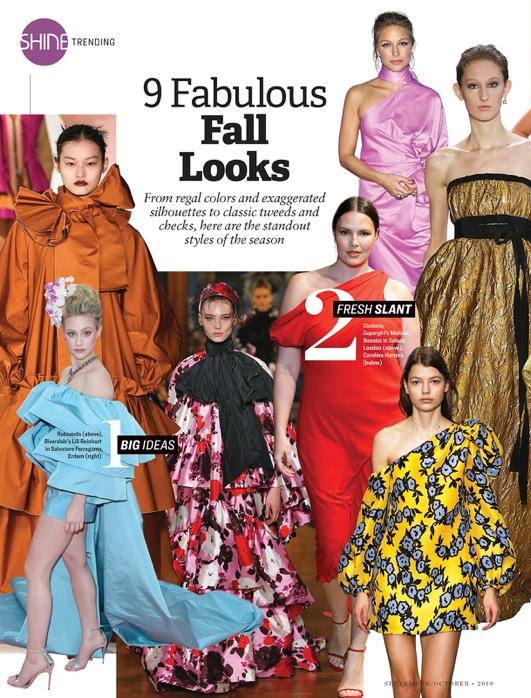 This special preview issue highlights this fall's hottest new shows and stars, from EVIL to CAROL'S SECOND ACT – and beyond – and a wide array of fabulous fall looks and beauty tips.
Additional coverage in the issue includes:
Comedic actress Michaela Watkins (starring in the new CBS series THE UNICORN, premiering Thursday, Sept. 26), who chats with columnist Brantley Badin about why Joan Rivers was her biggest childhood inspiration, what it was like at age 37 to become "the oldest woman that ["Saturday Night Live" had] ever hired at that point!," how she's living proof that "some of life's greatest disappointments end up becoming our biggest highs" and how she shares her new character's love of playing match-maker.

A "24 Hours With" breakdown of a day during production for popular SURVIVOR host and executive producer Jeff Probst, and why he still feels like he's "living [his] dream" after spending the last 19 years working as part of the team behind the renowned series, which starts its 39th season on CBS on Wednesday, Sept. 25.

Acclaimed veteran actor Kyle MacLachlan chatting with writer John Griffiths about how he launched a wine business out of his home state of Washington in 2005, in part, to stay connected with his father; why he named the brand Pursued by Bear, and what it's like for him to be working in front of a live audience for the first time for his starring role in CAROL'S SECOND ACT.

Simone Missick, star of CBS' new courtroom drama ALL RISE (which premiered Monday, Sept. 23), revealing her favorite spots in her hometown of Detroit.

Co-showrunner Gemma Baker of CBS' hit comedy MOM, which begins its seventh season on Thursday, Sept. 26, talking to columnist Fred Schruers about her early career quest to become a comedian, how a random conversation with TV maven Chuck Lorre at an event propelled her from being an office manager to a writer on his successful series "Two and a Half Men," how she subsequently helped develop Lorre's series MOM, and how the show hit its stride when it started "marrying humor with sadness and real things…"

Joshua Morrow, a 25-year veteran of CBS' daytime drama THE YOUNG AND THE RESTLESS, reflecting on his career and his drama-free personal life to writer David Hochman.

The top 10 upcoming events that new ENTERTAINMENT TONIGHT executive producer Erin Johnson is excited for ET to cover, from its own 10,000th show to J. Lo and A-Rod's wedding.

A conversation with best-selling author Alice Hoffman about her newest novel, The World That We Knew, which revolves around two Jewish girls who leave Berlin and survive as refugees in France.
Also, CBSWatchmagazine.com continues to complement the print magazine's articles while still showcasing its own unique content, including photos and videos that are original to Watch!
About Watch!
The official magazine of CBS since 2006, Watch! offers a rare, glamorous window into the lives of television and film's biggest stars. With distinctive photography by top tier talents and first class stories curated by industry veterans, Watch! has steadily become one of the most elegant, sophisticated publications today. This intriguing amalgam of entertainment, celebrity, culture, fashion, travel and beauty features talent from CBS, SHOWTIME, The CW, CBS All Access, CBS Television Distribution, Simon & Schuster, CBS Films, Pop and beyond.
The magazine's digital properties present readers with richer pathways to continue the journey beyond the velvet rope. Timely behind-the-scenes videos and photo galleries bring the reader closer to their favorite characters and their favorite shows. The digital version of Watch! can be found at cbswatchmagazine.com. The bi-monthly print magazine is enjoyed by subscribers and sold on newsstands at select Barnes & Noble, Hudson News, Target and Walmart stores.
Media site: www.cbspressexpress.com/watch-magazine/
Website: www.cbswatchmagazine.com
Facebook: facebook.com/CBSWatch/
Twitter: https://twitter.com/CBSWatch
Instagram: https://www.instagram.com/CBSWatch
* * *
Watch! Press Contact:
| | | |
| --- | --- | --- |
| Barbara Abseck | 212-975-4637 | |